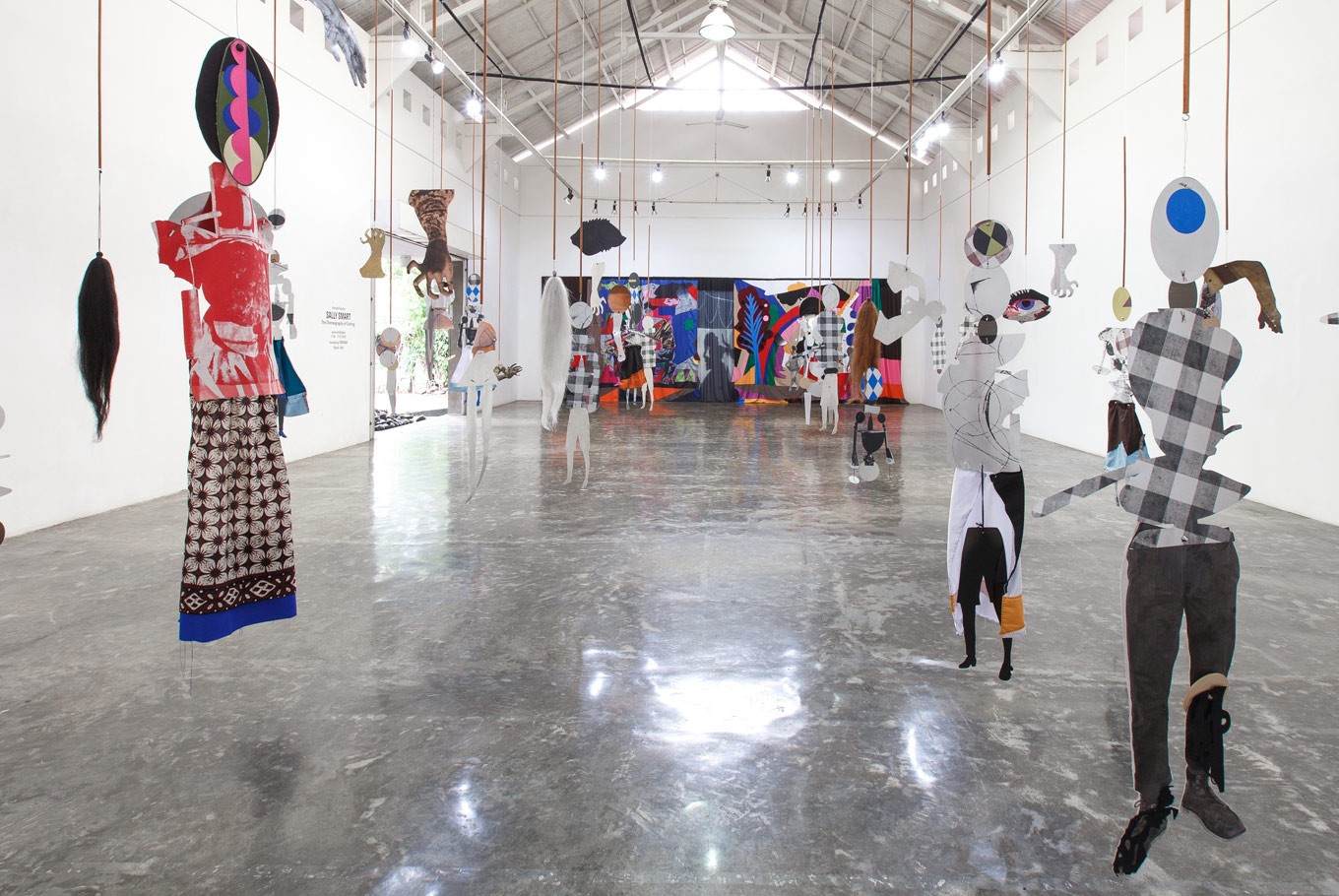 Smart's East-meets-West immersive puppet exhibitions in Bali – arts & culture
[ad_1]
Contemporary Australian artist Sally Smart has a long-standing connection with Indonesia, having exhibited for the first time in 2005 at the Jogja Biennale.
"I have a particular fascination with shadow theater and have had a collection of wayang kulit puppets for many years. It inspired my interest in the representation of the shadow world and its narrative dimension, across cultures, "said Smart. "I regularly visit Yogyakarta, where I have built relationships with artists and artisans with whom I continue to collaborate and engage in immersive dialogue and practice, examining cultural history and commonalities in the post-colonial world discourse. "
In 2012, as a Sackler Fellow at the University of Connecticut, USA, Smart worked with the School of Puppet Arts and in Animation at the Digital Media and Design School, learning shadow puppet techniques and creating a series of works also including moving images..
His puppet creations are a fusion of eastern and western cultures. The artist is also inspired by the European avant-garde artists who founded the Dada movement, as well as the philosophies of constructivism. She positions early 20th century experimental choreography, costume and theater design alongside traditional Indonesian shadow puppet performances.
The "immediacy and simplicity" of collage as a powerful contemporary art is often overlooked. The practice of cutting and reassembling, taking from one source to complete another, is a disruptive, yet very creative method with unlimited potential. For Smart, it is the communication base for his artistic ideas.
"The cutout methodology has been an integral part of my practice since the early 90s – the expression of a cutout – aligns silhouette and shadow play conceptually and technically," she said.
Honold Fine Art (HFA) showcases Smart's latest offerings in parallel solo exhibitions at two different locations in Bali. From June 19, The choreography of the cup exhibited at the Tony Raka Art Gallery, Ubud, and PARADE at BIASA in Kerobokan.
His work "speaks" of the human body as a vector of expression through movement, performance and gesture, revealing collective and individual anxieties while questioning the status quo.
At a glance, the two shows seem like worlds apart, but they are intrinsically linked, with PARADE being the perfect synthesis of the two works of Smart exhibited in Ubud. On display at Tony Raka is Chout Ballet Curtain, (The choreography of the cup), 2018, a huge 350 x 900 cm wall hanging, in which abstract organic shapes and imaginary landscapes come to life on Smart's colorful textile curtain which includes photographic dye transfer prints on satin and chiffon, with multiple elements of collage. And Puppets (The choreography of cutting), 2016-18, is a multimedia installation of more than 30 abstract hanging puppets of different sizes with moving parts.
PARADE is inspired by Smart's encounter with the huge stage curtain that Pablo Picasso painted for the ballet Parade in 1917, which was exhibited in Rome in 2017. In Smart's PARADE, which features Parade (Dancing), 2018, Staging of the Studio (Blaubart & Pina), 2017-18, and Drama (studio staging), 2018 – all floor-to-ceiling curtains with photographic dye-to-textile transfers with collage elements – a cast of characters is depicted on transparent textiles, crossing and overlapping to create multiple performance images.
While Chout ballet curtain is dominated by strong colors and dense and "heavy" fabrics, the illusory impact emphasizes the laws of gravity which anchor the observer to the ground.
PARADE, on the other hand, has the opposite effect. Its multiple transparent films are soft and delicate, soothing to the eyes, while its transparent qualities with superimposed figures seem sensual, a look of the most powerful.
The air conditioning choreographs gentle rhythmic waves of movement across the surfaces of the curtain which are seemingly engaged in a dance of their own, and we are captivated by the dynamic interaction of Smart's superimposed translucent "performers". Our vision is then drawn upwards, allowing us to feel uplifted and expansive. The beauty and simplicity of the material are alluring; our experience is powerful and ethereal.
One of Australia's foremost contemporary artists, Smart is the recipient of numerous awards and accolades. She is currently Vice-Chancellor's Professorial Fellow at the University of Melbourne and a member of the board of directors of the National Association for the Visual Arts. She is represented in important international public and private art collections. Recognized internationally for its large-scale cut-out assembly installations and, increasingly, its performances, Smart's artistic practice engages identity politics and the complex relationships between body, thoughts and cultures.
The most enjoyable aspects of Smart's work are the opportunities for interaction with the audience and for personal artistic experiences. His installations invite the observer to venture closer, to walk in him and to participate in another imaginary world. In response, some people come alive in their own intimate performance, which has the potential to touch them deeply while being encoded in their memories.
"I am interested in observing the public engage physically with my work," said the artist. "As performance and movement are conceptually integrated into the works, the feeling of movement and dance in the space becomes evident with the puppets and the curtains, making it dynamic and engaging. I was excited to see this.
When asked if she thinks society would derive greater benefits from contemporary art as artists seek new avenues to create more positive opportunities for new and personal artistic experiences for audiences, Smart responded. : "Yes, always, when something is triggered, even the slightest gesture, reveal and present possibilities of new ways of thinking an engagement in all aspects of society. Art creates essential paths. (kes)
What or: The choreography of the cup, Tony Raka Art Gallery, Jl. Raya Mas 86, Mas, Ubud; PARADE. at BIASA, Jl. Raya Kerobokan 51X, Kerobokan
When: From June 17 to July 17, 2018
Website: www.sallysmart.com
Disclaimer: The opinions expressed in this article are those of the author and do not reflect the official position of the Jakarta Post.
[ad_2]