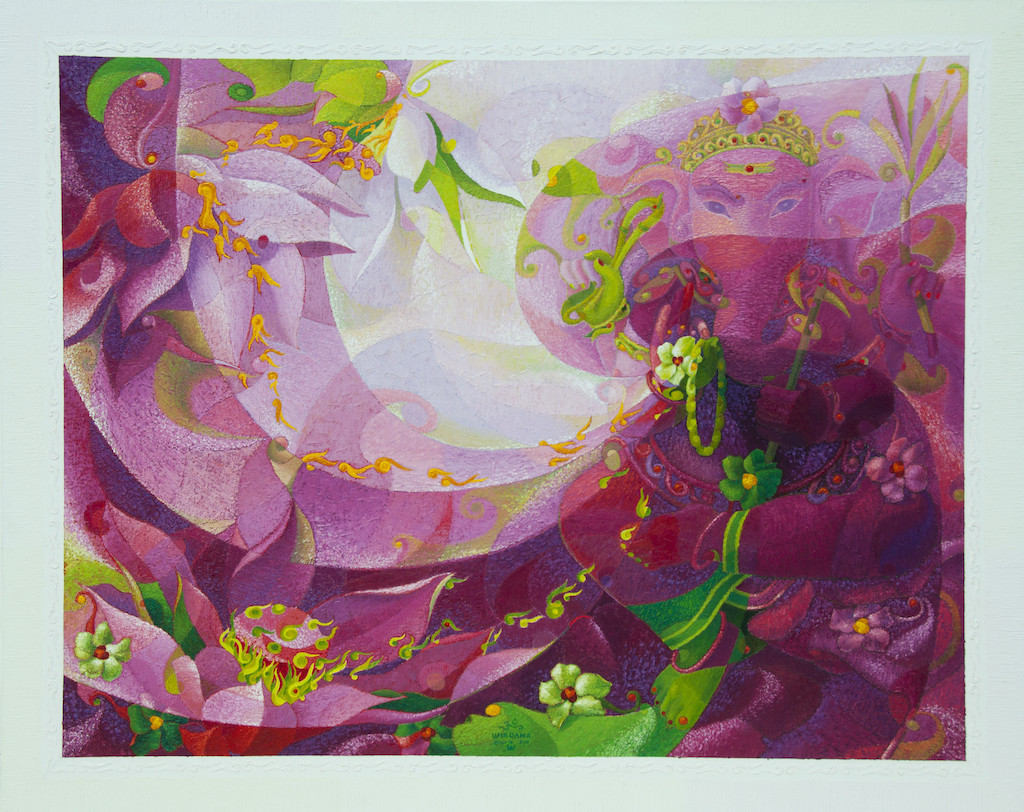 Preview of the sale of traditional, modern and contemporary art at Larasati Bali – Art & Culture
Richard Hortsman (Jakarta Post)
Bali ●
Fri 30 April 2021

2021-04-30
21:46
258
9a83ea3b2805adb41e1c26538e3b241e
1
Art & Culture
larasati,art,auctions,auctions
To free

A fascinating aspect of Balinese art is how Indonesia's first president, Sukarno (1901-1970), used images of Bali as a powerful political tool. An avid art collector whose mother was Balinese, Sukarno adopted images inherited from colonial times to integrate Bali into the modern Indonesian state. Symbols of beauty, peace and harmony, Balinese paintings went on to represent the new nation on the international geopolitical scene in the 1950s.
Artworks classified by the Ubud School of Painting, the most famous Balinese art genre, are featured in the upcoming Larasati Bali Traditional, Modern and Contemporary Art Sale in Ubud on Saturday. Some of the renowned artists included in the sale are Ida Bagus Made Poleng, Ida Bagus Nadera, Gusti Ketut Kobot and her brother Gusti Made Mangku Baret. Ida Bagus Rai, Anak Agung Gde Meregeg, the unique innovator Dewa Putu Mokoh (1934-2010), as well as famous Dutch artists Willem Gerard Hofker and Arie Smit.
Starting at 3pm on Saturday, 40 works of art go under the hammer at the Larasati Bali Art Space at Tebesaya Gallery, Tebesaya, Ubud.
A virtual exhibition, open from April 23 to Saturday, offers a user-friendly overview of the sale within a digital space, allowing close observation and varied perspectives as if we were walking through a gallery. The sale showcases various mediums and genres of painting, from lush tropical vistas and harvests of golden rice paddies, to Balinese village and mythological scenes, as well as works in a price range to suit those with limited funds, intermediate and advanced collectors.
For enthusiasts wishing to start collecting on a small budget, the following works offer good buying opportunities, especially if purchased within their estimated prices. Limited edition posters of the iconic Bali, printed in the Netherlands by one of the most famous European artists to have visited and worked in Bali, Hofker (1902-1981), are on sale.
Lot 701, Ni Gusti Njoman Klépon, 30 centimeters by 22 cm, and Lot 702, Ryst Veld Achter Ons Huis Op Ubud, Bali, which measure 32 cm by 23 cm, are in good condition, framed and have an estimated price between Rp 3 million (USD 208) and Rp 5 million.
Then there is lot 709, Bima fighting the beast by Dewa Ketut Ding (1920-1996), acrylic on canvas, 58 cm by 38 cm, the price of which is estimated between Rp 6 million and Rp 10 million. Also, Lot 729, Upacara Potong Gigi, by Made Tubuh (born in 1941 in Ubud), acrylic on canvas of 42 cm by 66 cm, has an estimated price between 4 and 6 million Rp.
For buyers with an intermediate budget, the following works are interesting.
First, there is lot 710, The Battle of Kurusetra, which is by one of the painters of the first generation of the famous collective of artists Pita Maha founded in Ubud (1936-1942), Anak Agung Gde Meregeg (1908/1912-2000). The 66cm by 100cm acrylic on canvas composition features mythological figures showcasing the forces of darkness against light and has an estimated price of between Rp 40 million and Rp 50 million.
A windswept background combined with the dynamic movement of traditional dancers perfectly captures the movement and energy that describes the visible and invisible worlds of Bali.
Lot 734, Kecak Dance Performing Rama and Shinta, is a 50cm x 39cm acrylic on canvas painting by Nyoman Kayun (born 1954 Peliatan, Ubud). This beautiful animated image has an estimated price between Rp 38 million and Rp 48 million. Lot 737, Pandawa dalam Pengasingan by Ida Bagus Rai (1933 – 2007), is an acrylic on canvas, 76 cm by 58 cm and whose value is estimated between Rp 15 million and Rp 20 million.
For connoisseurs of Balinese painting, the following works are of interest. Arie Smit (1916-2016), iconic Dutch colourist and long-time resident of Bali, is renowned for his stylistic interpretations of village scenarios and landscapes. Lot 723, Pemandangan Laut, 2006 is however one of its rare seascapes. The 42 cm by 49 cm acrylic composition on canvas, dominated by blues depicting the sky and the sea, is signed and dated lower right; inscribed, signed and dated on the back and has an estimated value between Rp 75 million and Rp 85 million. The work is accompanied by a certificate of authenticity signed by the artist.
Paintings by Ida Bagus Made Poleng (1915-199), famous as one of the most important Balinese painters of the 20and-century, are very popular with collectors. Lot 710, Barong Dance Calonarang Execution, is a 64cm by 56cm acrylic on canvas composition of balance and precision, depicting drama and conflict. The lower left corner depicts a performer during the sacred purification ceremony dressed as a monkey. He brazenly tries the barong (panther-like mythological creature) with a banana. Immediately to the right, in direct contrast, another performer is overwhelmed by the spell of Rangda, the Wicked Witch, and is depicted stabbing herself with the ceremonial kris.
Lot 710, "The Battle of Kurusetra", Anak Agung Gde Meregeg. Acrylic on canvas, 66 centimeters by 100 cm. (JP/Courtesy of Larasati Auctioneers)
The top half of the composition is also complete with high drama. As the viewer's eye is guided in a circular motion around the image, the visual stimulus, from dramatic to peaceful, represents the duality of life. The painting has a strong provenance. It was purchased directly from the artist in the 1960s and was once part of the collection of Leonard Mattson, UNESCO Ambassador to Indonesia in the 1960s. Lot 740 has an estimated value between Rp 300 million and Rp 400 million.
Other works of interest in the sale are lot 726, Suasana Evil, by Ni Gusti Agung Galuh. Bali's greatest female painter in the beautiful and highly technical oil on canvas landscape style was pioneered by the famous Bali cultural expert and multi-talented German designer, Walter Spies (1895-1942). The 60cm by 80cm composition depicting the beautiful late afternoon ambiance of lush tropical Bali has an estimated price of between Rp 32 million and Rp 42 million.
Nyoman Wirdana (born 1976 in Tejakula, North Bali) is an artist of extraordinary talent who, unfortunately, remains virtually unknown. His incredibly technically accurate oil paintings take up to 18 months and are rarely available on the secondary market. One of the rare contemporary works offered at the sale is lot 713, Ganesh Samara, 2011, which measures 128 cm by 160 cm. This beautiful composition of flowing organic and floral shapes with minimal green coloring creating a powerful visual contrast with the dominant hues of reddish pink, has an estimated value between Rp 15 million and Rp 20 million.
The story of the Rajapala describes a young hunter who, while wandering through the forest, encounters a group of celestial nymphs bathing in a stream. Rajapala steals the shawl of one of the beauties, so that she cannot go home and he can make her his wife. One of the most famous tales of Balinese folklore is reinterpreted by Gusti Made Mangku Baret (1920-2012). Lot 738, Rajapala Mencuri Selendang Bidadari, 1983, has an estimated value between Rp 20 million and Rp 30 million.
Potential buyers bidding by telephone, absentee bidders, or real-time Internet bidders are encouraged to contact Larasati and inquire about the accuracy of color reproduction of images contained in the online catalog to ensure that what they want to buy can be realistically assessed. The absence of reference to the condition of a lot in the catalog description does not imply that the lot is free from faults or imperfections; therefore, condition reports outlining the current condition of the paintwork and indicating whether there are any repairs or overpainting are available upon request.
The provenance, the historical data of the previous owner of the work, is also important and is provided. An information guide is provided before the auction, during the auction and after the auction, detailing trading conditions, bidding process, payment, storage and insurance, and shipping Artwork. A buying commission is payable by the buyer of each lot at a rate of 22% of the hammer price of the lot. The online catalog, together with a guide for potential buyers, is available to the public and should be studied carefully by all who wish to participate in this auction.
All works offered in the online listing include a brief condition report compiled by Larasati based on his observation of the work. Larasati specialists are not professional restorers; therefore, they suggest that the potential buyer consult their own restorer for a more in-depth professional report. Larasati stresses that the works must be viewed personally by professional advisers before the sale to assess the conditions of the work.
Preview of the virtual exhibition online until Saturday.
Physical preview at Larasati Bali Art Space:
April 30: 11 a.m. – 6 p.m.
May 1: 11 a.m. – 2 p.m.
The live auction, open to the public, starts at 3 p.m.
Larasati Bali Art Space
at the Tebesaya gallery
Jl. Jatayu, Banjar Tebesaya, Peliatan, Ubud
Gianyar, Bali 80571 Indonesia
All visitors to the Larasati Bali Art Space must wear face masks.