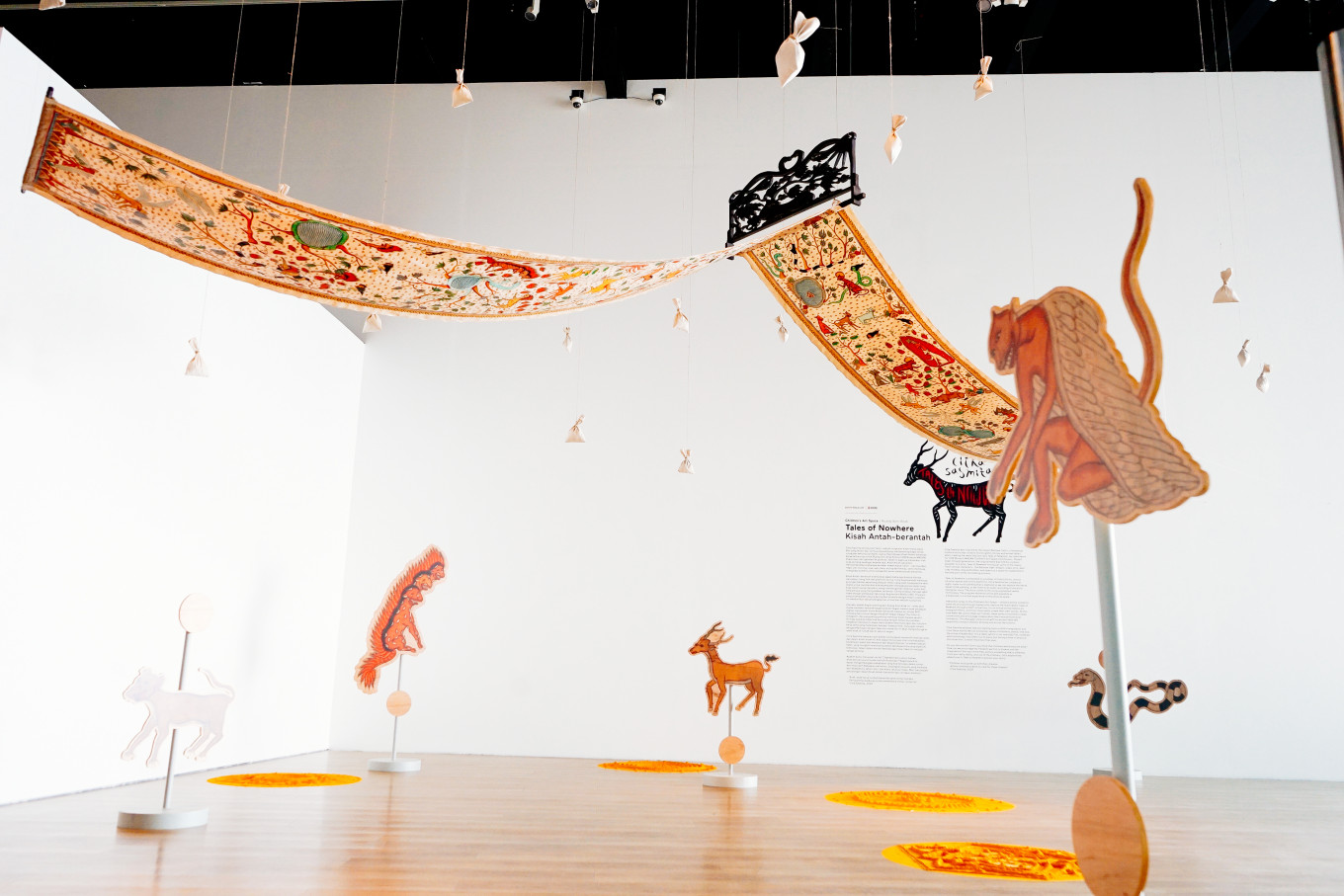 Artist Citra Sasmita "hacks" Balinese patriarchal traditions – Art & Culture
Titah AW (The Jakarta Post)
Yogyakarta ●
Tue 8 March 2022

2022-03-08
10:02
0
66ff3eaf63eeff59fe4f59c22125fe87
1
Art & Culture
Citra-Sasmita, Balinese artist, feminism, art, art exhibition, gender equality, women's issues, artwork
Free

Growing up in a less privileged low-caste family in Bali and discriminated against as a woman, Citra Sasmita raises issues of equality in her works.
In one of the exhibition halls of the Biennale Jogja 2019, five long canvases hang beautifully. Each depicts dozens of nude female figures with long hair and playing with fire, water and plants. Under the paintings, the title of the work was written with turmeric powder on the ground – it reads Timur Merah Project: The Embrace of My Homeland. Beautiful yet striking, feminine yet strong, the work belonged to artist Citra Sasmita.
Born in Bali on March 30, 1990, Citra Sasmita is an artist interested in women's issues. Through her art, she challenges Bali's patriarchal system that has existed for generations.
Since its first exhibition in 2015, Citra has used numerous legends, myths and stories from ancient Balinese manuscripts, reconstructing them into a narrative that presents more gender equality.
"We Balinese have inherited a patriarchal narrative and mindset, so it's only natural that our daily practice is very discriminatory," Citra explained why she took this approach in art. "Kids like me grow up with a lot of limits and control."
Female figures: Entitled "Timur Merah Project: Embrace of My Motherland", the work of Citra Sasmita is exhibited at the 2019 Jogja Biennale in Yogyakarta. For this work, Citra Sasmita replaced the all-male characters of the Balinese tale about the creation of the universe into an all-female story. (Citra Sasmita courtesy) (Citra Sasmita/Citra Sasmita courtesy)
Past and future work
In Citra Sasmita's studio in Batubulan, Gianyar, Bali, rolls of traditional canvas are stacked in the corner of a room. A cup of coffee sits on his desk. This is his space to create art.
"Well, if my child has taken a bath and is sleeping, I can only draw here," Citra said.
"In 2016, I conducted a social experiment at home," she said. At that time, she was working on a project called Mea Vulva Mea Maxima which would feature 100 vagina-shaped ceramic pieces for an exhibition called Merayakan Murni (Celebrating Purity) which took place at Sudakara Artspace in Sanur, Bali, in 2016. To dry her ceramics, she hung them outside her house where many people were passing.
"It was interesting and strange to see that many people were disgusted by the shape of the vagina, whereas in Bali it is common for people to see penis-shaped souvenirs sold everywhere," she frowned. eyebrows.
Citra found inspiration in the late I Gede Ayu Kadek Murniasih, a Balinese artist who rose to popularity in the 1990s and spoke widely about feminism before she died in 2006. a patron, I found Murni. But it was a shame we didn't get the chance to meet in person. As a female artist expressing herself in this generation, she must have been in a very difficult position. I also feel the pressure. Murni was able to create his own complex linguistic symbols to read the patriarchal situation in Bali at that time. It gave me clues."
Citra then presented his works for the Kathmandu Triennale 2077, an international exhibition of contemporary art in Nepal, which will take place in March. "For this event, I will highlight Balinese rituals on nature worship. Talking about human relationships with nature is a real and raw event that I experience as a Balinese."
Citra shares her story, ideas and messages for other women.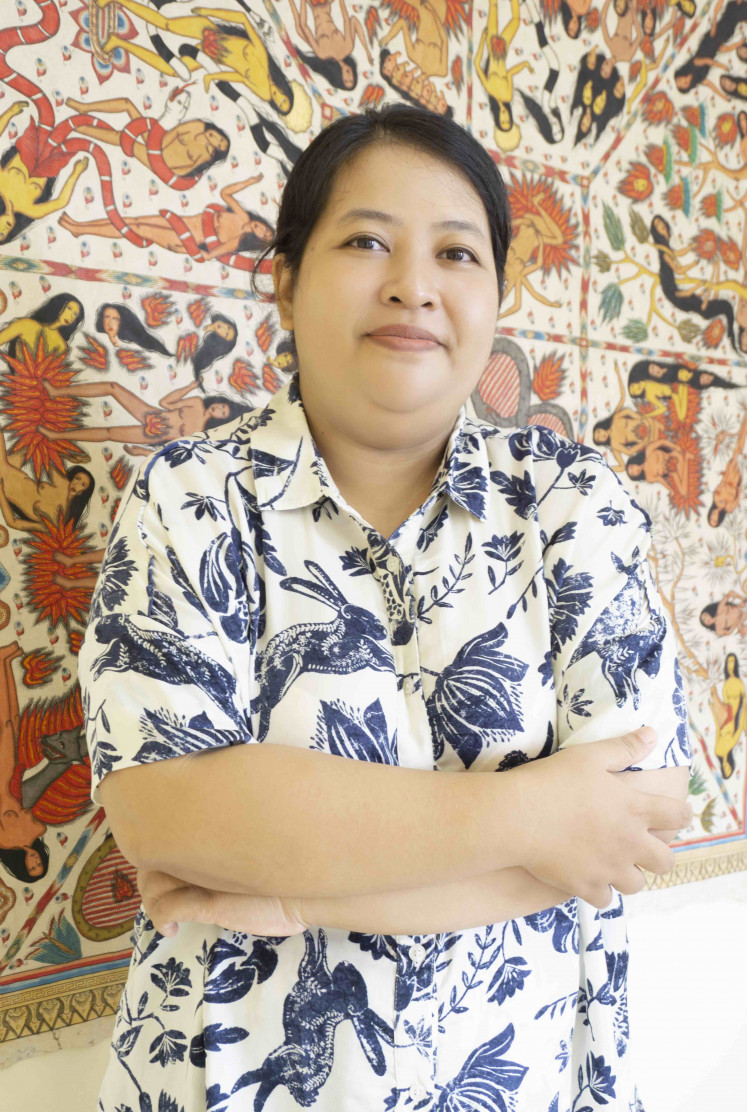 Meet the artist: Discriminated against as a woman, Citra Sasmita learned about feminism and eventually found her statement and artistic methods. (Citra Sasmita courtesy) (Citra Sasmita/Citra Sasmita courtesy)
What experiences made you aware of women's issues and decided to express it through your works?
It was a long trip. As a Balinese girl, I have a Balinese name "Ni Putu", which means I don't come from a privileged family. [or a high social caste]not like "Raden" or "Agung" [higher caste title]. The caste system is still very much in force in Bali. So kids like me live with a lot of limits and controls. You can't speak freely or be critical – but why? Why can't we be critical? I found it difficult to get the answers to these questions.
Fortunately, I met Oka Rusmini and my theater friends at university where I learned to express and speak my mind. I learned a lot, especially with Oka Rusmini who offered me a job as a news illustrator at Bali Post in 2012. In addition to reading lots of short stories, I was also encouraged to learn more about "Eastern" feminist theory. Soon I realized that the problem I thought was personal turned out to be a collective experience among Balinese women. Everyone experiences it, only they don't know how to express it and see no other choices.
Apart from studying feminism, has your work as an illustrator influenced your current work?
Yes of course. Perhaps an illustrator's work is usually for describing, while mine is more for telling. I learned to look for symbols in literary works which are generally poetic and symbolic.
At one point you said, "Women in my work are not just a theme, but a language." Can you tell us more?
Language is complex because it involves analyzing and saying a condition. Even if I take text from an old manuscript and contextualize it in my work, I think about how to make it relevant to what is happening today. For example, my work The edge of the deadly ground [Artjog 2020] was from Calon Arang, [a female character in Javanese and Balinese folklore]. The legend says that once there was an epidemic and people were not allowed to leave the house. But the mystical accounts describe that the plague was caused by the wicked witch Calon Arang. The situation is similar [to what we experience] now: isolation, confinement, etc.
Almost all of your recent work is titled Timur Merah Project (Red East Project). Can you explain what it is?
This is my long-term research project which started in 2019. I research traditional Balinese art, especially Kamasan paintings, which was the first painting [style] which developed in Bali in the 15and century. I re-read if Bali is geopolitically significant in the constellation of world history. [I question] what makes Bali worth apart from tourism, souvenirs and exotic impressions.
So I used the traditional Kamasan canvases for this project. Then, because I couldn't read ancient Balinese scripts, I learned a lot about the stories of Mangku Muryati, a female priest from Kamasan. When she was appointed a priest in 1996, it was quite controversial because there had never been a female priest.
Speaking of women, what do you think of the position of women in Bali today?
Today is much better as there seems to be resistance [toward the patriarchy]. In the past, women had no bargaining power, especially in the law on inheritance rights and victims of sexual violence, and this was enshrined in customary law. For example, a rape victim must be married to the rapist for the Desa Adat [customary village] is not "dirty". We continue to fight against this. Many non-profit organizations have started educating women in Balinese villages about the law. There have been changes.
Does this mean that in the past, Balinese women were not only discriminated against because of their caste, but also because of their gender?
Yes, it's that bad. Especially in the field of art and intellectualism, it was very difficult for women to be appreciated at their fair value. Now it's better. We created the Futu Wonder collective to break this stigma. For example, we organized Wikipedia trainings, wrote the stories of Balinese female artists who had never been recorded, and organized exhibitions.
But aren't there a lot of Hindu philosophies espoused by Balinese that are pro-gender?
That's what the Pedanda [Balinese priests have always claimed to deny the existence of patriarchal problems. Indeed, we inherit, for example, the Lingga-Yoni artifact at Besakih Temple in Bali, which is a symbol of equality. Without Lingga and Yoni [symbols of fertility and virility], there would be no life, and the figure of God is also described as asexual. But in reality, there is a discrepancy. And I think that's what we should "hack".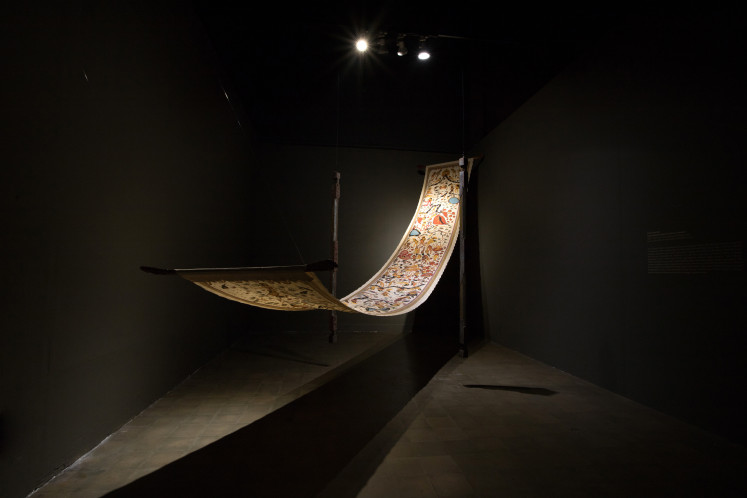 On view: A preview of Citra Sasmita's installation at the ARTJOG MMXXI exhibition in Yogyakarta in 2021. (Courtesy Citra Sasmita) (Citra Sasmita/Courtesy Citra Sasmita)
Why do you think it is important to pirate legends and myths rather than, for example, customary rules?
We live in this culture. These legends and myths are now part of our lives. So, I believe that artworks based on these stories are easy to understand. I don't need to explain my work to the public. Additionally, my work can be a bridge to the wider Southeast Asian culture, as it turns out that the story I shared is also experienced by women in another part of the world. We are all connected.
Of the many legends and myths of Hinduism in Bali, which annoys you the most? Is it Calon Arang?
Yes, in addition to being reproduced in many mediums, Calon Arang is familiar to me. Here, Calon Arang is usually played at traditional events. There is a scene depicting Calon Arang being possessed by a spirit that can do dark magic. In Bali, there is a stigma that women who have lived for over 90 or 100 years are considered to have black magic. My great-grandmother was 106 when she passed away last year. She was branded as having black magic and the news spread to the surrounding villages. All because of the story of Calon Arang.
As a female artist who talks about women's issues, what's the nastiest response you've ever received?
Receiving criticism from men about feminism delights me. What bothers me is getting responses from other women who don't support other women.
How do you think your old age will be?
Maybe when I have cataracts, I'll take care of the plants; I like cacti and philodragons [laughs].
Do you have any messages for young women?
Our voice is important. So, as long as we can express, struggle and find power, we must express whatever we keep pent up in our minds.