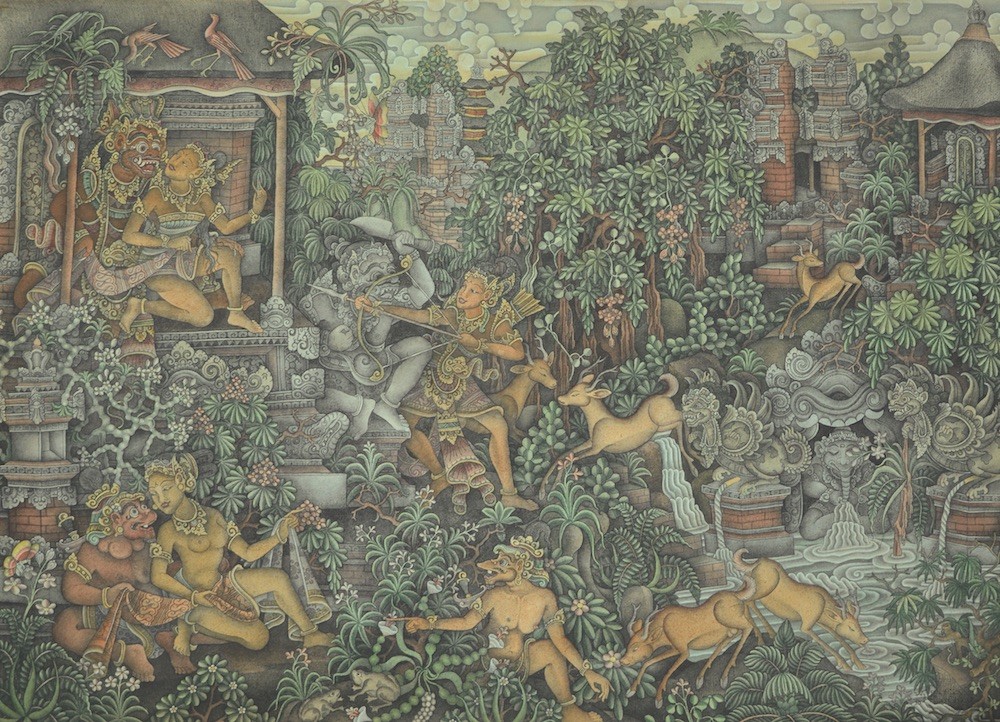 Traditional and contemporary artwork ready to auction in Bali – arts & culture
Each year, Larasati Auctioneers, Indonesia's oldest fine art auction house, hosts two auctions in Ubud showcasing traditional Balinese art. On August 26, 74 items will be on sale at the traditional, modern and contemporary art auction.
Open to the public, viewing begins at 11 a.m. on August 24 at Tebesaya Gallery's Larasati Art Space, Ubud, Bali. The sale is hosted by a collection of Charles Powell, USA, and three beautiful traditional paintings by Wayan Radjin from the 1970s.
The sale features old master works of traditional genres, unique and rare paintings, works with investment potential and a range of compositions that provide good market entry opportunities for new collectors.
Catering to a range of tastes, the works on offer include ink and watercolor on paper, modern Indonesian art, modern and contemporary Balinese paintings and works in traditional styles, as well as wood carving. . The distinguished Balinese artists featured are Ida Bagus Made Poleng, Ida Bagus Made Widja, Gusti Ketut Kobot and Nyoman Gunarsa.
For new buyers looking to enter the market, the estimated prices for this sale start at Rp 500,000 (US $ 35). Auctions offer buying opportunities at much cheaper prices than buying works directly from the artist's studio or galleries.
These works by respected old masters will be of interest to connoisseurs of Balinese art. Tjokorda Oka Gambir (1902-1975) is one of the founders of the Ubud school of painting, lot n ° 549 "Mythological scene in the Kamasan style" is a large work of 248 x 132 cm in natural color on fabric with an estimated price between Rp 65-80 million, while lot # 550 "Garuda & Wisnu" is from one of the esteemed masters of the influential Pitamaha Artists Association of Ubud (1936-1945), Gusti Ketut Kobot (1917-1999) with an estimated price between Rp 95-110 million.
Lot # 574 "Taris Bali" is a superbly balanced composition of a traditionally dressed Balinese warrior emerging from the forest performing the unique warrior dance of Ida Bagus Made Poleng (1915 – 1999) who is considered one of the best Balinese painters of the past century. This work bears the stamped identification which guarantees the authenticity of the Ida Bagus Made Foundation, and has an estimated price of between Rp 165-190 million.
The following are rare pieces lot # 544; "Sarasvati" is a youthful work by respected painter Batuan Wayan Taweng (1922 – 2004) who trained with Nyoman Ngendon (1906 – 1946) with an estimated price of Rp 10-15 million. Wayan Radjin (born in 1945) is the son of the famous artist from Batuan I Djata, considered to be the founding father of the Batuan school. Lot # 527 "Ramayana Membebaskan Dewi Sita" by Radjin is a beautiful acrylic on canvas composition with an estimated price of Rp 28-38 million. Most of Radjin's works are on paper, and such a quality is arriving. rarely on the market.
Also Read: A Sneak Peek at the 2017 Larasati Art Auction
Lot # 572 "Iringan Pengatin" is a unique work because it is a cluttered composition by the famous painter of the unconventional Dewa Putu Mokoh (1913 – 2010), and has an estimated price between 7 and 10 million Rp, while lot # 521 "Ibu dan Anak", featuring a composition of a mother and her child, is also an unusual work by Dewa Ketut Rungun (1922-1986), who is known for his bird compositions. Its price is estimated between 15 and 20 million Rp.
The opportunities for good investments are lot # 513a. "Di Malam Ini" and b. "Aku dan Dia Bermain", two paintings by Indonesia's most important female artist I Gusti Ayu Kadek Murniashi (1966 – 2006), with a combined estimated price of Rp 18-25 million, and lot no. "Bali Life" by Ketut Gelgel, estimated to be priced between Rp 95 and 110 million.
New collectors have the opportunity to enter the market with Lot # 507 "Hierarkie" by Susilo Budi Purwanto, "Berburu Kuda", Lot # 512 by Made Wiradana, and two abstract oil paintings, Lot # 540 "Kampung Nelayan Kusamba" and lot # 541 "Gunungan Semar" by the famous Javanese painter Bagong Kussudiardjo (1928-2004), and the beautiful fluid forms of flora and fauna from "Burung Burung Bangau", lot # 573 of Dewa Ketut Rungun. Emerging Balinese artist Ngakan Putu Agus Arta Wijaya is a young artist worth watching, with excellent technical skills, great ideas and a distinctive style.
Other popular artists on sale are famous Dutch colorist Arie Smit, Otto Djaja, Mochtar Apin, Jehan, Ida Bagus Nyoman Rai, Nyoman Dewa Jati, Dewa Putu Bedil and Agung Mangu Putra.
For buyers looking to invest, it is important to have a strategy, to buy and hold for at least 10 to 15 years, and to invest early in an artist before everyone else embarks on the project. Marlet. Look for rare and unique works – uniqueness referring to the quality and frequency with which the artist creates such an image or composition. The provenance of a painting is important for established taste and also for authenticity, because the more important the previous owners, the better. This also includes the exhibition history of the work and its inclusion in books or catalogs.
Potential buyers who bid by phone or via the internet in real time and who are unable to attend preview days or auctions are encouraged to contact Larasati and inquire about the accuracy of the color reproduction of the images in the catalog. online to ensure that what they want to buy can be realistically valued. The absence of a reference to the state of a lot in the catalog description does not imply that the lot is free from defects or imperfections, therefore work status reports, describing the current state of the painting and if it has repairs or over-painting, are available on request.
Provenance, historical data of the previous owner (s) of the work are also important and are provided. An informative guide including pre-auction, during auction and after-auction details including trade terms, bidding process, payment, storage and insurance, and shipping of the artwork is also available. A purchase premium is payable by the buyer of each lot at the rate of 22% of the auction price of the lot.
The online catalog, accompanied by a guide for potential buyers is available at larasati.com. (kes)
*****
Display:
August 24, from 11 a.m. to 7:30 p.m.
August 25, 11 a.m. – 7:30 p.m.
August 26, 11 am-1pm
Auction: August 26 from 2:30 p.m.
Place: Larasati Bali Art Space at the Tebesaya gallery, Jl. Jatayu, Banjar Tebesaya, Peliatan, Ubud, Gianyar, Bali
—————
Interested in writing for thejakartapost.com? We are looking for articles and opinions from experts in various fields, as well as others with strong writing skills. Submit your original article to [email protected] on the following topics: lifestyle (beauty, fashion, food), entertainment, science and technology, health, parenting, social media and sports. Click here for more information.
Disclaimer: The opinions expressed in this article are those of the author and do not reflect the official position of the Jakarta Post.