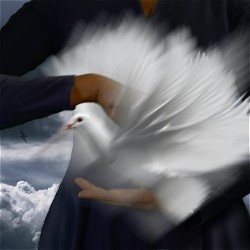 4 star review by Stéphanie Green
that of Amina Khayyam Catch the bird that won't fly, a Kathak dance piece using animation and the green screen is beautiful, subtle and moving despite its sinister subject matter: domestic violence which increased alarmingly during covid containment.
Hands floating or flapping to avoid blows, expressive eyes and birds flying out of a woman's mouth
Animations of floating or flapping hands brushing aside blows, expressive eyes, and birds flying out of a woman's mouth are interspersed with some short real images of a woman with a bruised and bloodied face. Louise Rhoades-Brown's animation manages to take us away from the horror and allows us to appreciate the skill of the Kathak dancers, the varied rhythms of the tablas and the soulful songs which are also a poignant and empathetic evocation of the despair of the women.
The prestige in which Khayyam's company is held is reflected in the international super stars she has attracted to this show: UK-based Punjabi Rup Khatker, one of the most famous actresses in Asian cinema, and world famous Bangladeshi singers based in the UK. Lucy Rahman and Sohini Alam. Their soulful voice and that of Khayyam bowls (mnemonic rhythmic syllables) create an exquisite soundscape with that of Debasish Mukerjee tabla.
Set in four different scenarios, from the poorest to the richest households: a tower, a terrace, a cozy garden suburb and a modernist contemporary house indicating that this crime is taking place throughout society and although located in Asian houses in Great Britain, it has global relevance.
Although Kathak dance usually involves footwork, we only see the long skirts of women. The swaying bodies, waving arms and intricate hand movements of Amina Khayyam and Jane Chan are powerfully expressive and especially those of Khayyam. abinhaya or facial expressions for which she is famous. Both dancers embody happier moments as well as the present nightmare, and Khayyam in particular can play the role of the welcoming hostess hiding what she sees as her shame. The only man, Mithun Gill, (a rising dance star who starred in one of Akram Khan's films, The child of the curry house) stages mental stress with great sensitivity showing how this crime affects children, helpless to help. A fourth scenario demonstrates the tragic outcome that can occur; the white outline on the floor of a murder victim. Skillful cutting from scene to scene, or using a split screen, the piece rises to a crescendo underlined by the frantic rhythm of the tabla followed by a peaceful finale as the bird, perhaps symbol of the soul, soars freely in a blue sky.
Over the years, Amina Khayyam's company has dedicated themselves to the voices of women who have not been heard or marginalized and this exquisite piece both laments but hopes to empower women by realizing that they are not alone. and that they can also fly freely.
Visit the show website
Catch the Bird Who Won't Fly is a digital dance-theater piece performed during the Covid lockdowns by working remotely with artists to bring attention to the devastating reality of a crime, which escalated during the lockdown and is often shrouded in secrecy – domestic violence against women. Using animation and green screen technology, four individual stories are told through the kathak dance from real life experiences that were researched with the women's group user network of the business.