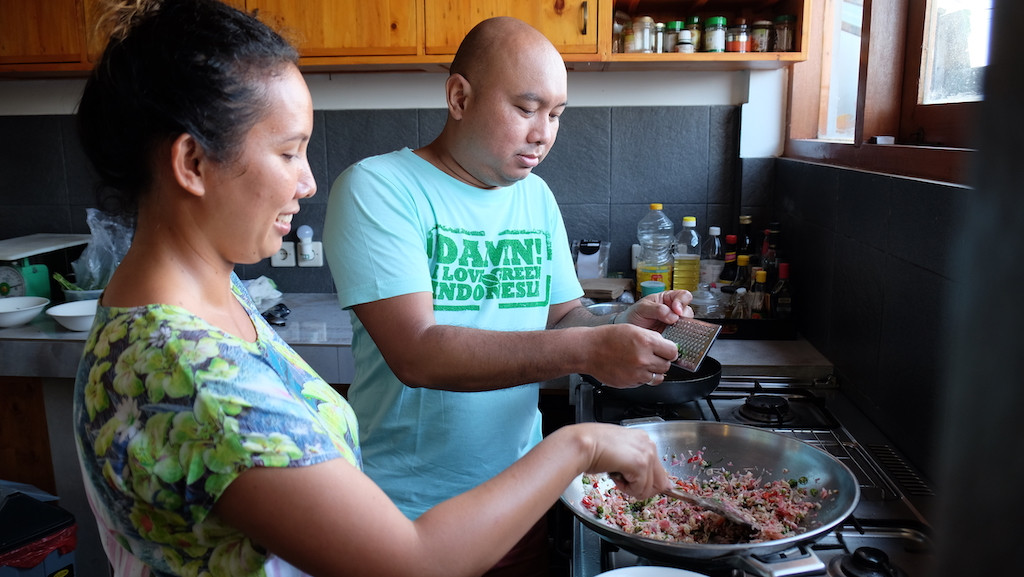 Sendok Kreatif: Empowering Balinese culinary entrepreneurs during the pandemic – arts & culture
Creative and solution-oriented thinking is fundamental to humanity's ability to thrive. A survival mechanism, creativity enables us to achieve positive results and harness our enormous potential.
"When the lockdown was announced during Nyepi 2020, I felt uneasy and uncertain about the future. The closure of tourism meant that thousands of Balinese lost their jobs overnight, "said Landriati Pramoedji, restaurant and hotel consultant and CEO of Bali dinner and wine. "I had to answer. But where to start and how?
"I believe in being in the right place at the right time. Therefore, my business background was the obvious starting point. Unfortunately, a prolonged Nyepi meant that all restaurants remained closed for dinner. Those, however, who had previously started their take-out service and were continuing through the lockdown, I wanted to help. So, I allowed them to advertise for free with the Bali dinner and wine social media platform for a while.
Landriati's next solution was to reach out to its vast network. She contacted the executive chef of Potato Head Bali Wayan Kresna Yasa to find out the possible number of unemployed. "A five-star hotel employs around 400 cooks. Wayan's response pierced my heart. Tears came to my eyes as I tried to figure out how many hotels in Nusa Dua and the rest were unemployed. For example, waitresses, bartenders, managers and salespeople, "she explained.
Micro-businesses: Sendok Kreatif Bali Food Bazaar Bali 2021 with micro-entrepreneurs Sherly (left) from Dapur Mama Ica, Catherine Muljadi (second from left) from Apple & Co and the Three Brothers infused arak team. (JP / Courtesy of Sendok Kreatif)
"I suggested empowering the Balinese, not with food, but with basic kitchen equipment and start-up capital. Enable former chefs, cooks and kitchen helpers to ignite their entrepreneurial spirit by creating items for sale at home. So they can support their families and pay their bills, "said Landriati. Jakarta Post. Wayan responded positively. Landriati then shared the idea with Heru Dwi Soesilo, hospitality consultant and freelance graphic designer Nadya Puspa, who immediately joined the cause with Wayan.
Read also: Virtual restaurants, kitchens offer targeted and profitable culinary business alternatives
Sendok Kreatif (Creative Spoon) was born as a movement and charity serving those who started their home cooking businesses during the pandemic. Provide free transfer of skills, knowledge and confidence. Sendok Kreatif's mission is to provide home cooking micro-entrepreneurs with adequate resources to develop their businesses in an eco-responsible and sustainable manner.
Sendok Kreatif offers one-on-one personalized training sessions on efficient procedures, management coaching and marketing knowledge as well as cooking and packaging tools. "The only way out of this difficult time is simply to create a new future. Where there is a crisis, there is also an opportunity," Landriati told me. Sendok Kreatif teaches the selected candidates about branding, hashtags, marketing strategies, packaging and costing. The brand identity is adapted according to the concept and the vision of the entrepreneurs. Social media platforms such as Instagram and Facebook are enabled to effectively manage content. Distribution support is also provided for products through Sendok Kreatif channels, websites, social media, word of mouth, and new opportunities with partners and the community.
Understanding the supply chain is critical to the success of any business. Therefore, annual availability, quality control, profitability and inventory become essential factors in the performance of a business. Sharing industry information, such as suppliers, to achieve wholesale prices is included. "We insist on avoiding single-use plastic items. Quality control procedures ensure cooking, hygiene and safety criteria are met, and we encourage sourcing directly from farmers in their community, "Landriati adds. The Sendok Kreatif formula determines the eligibility of candidates by discovering their core values ​​and character traits, which will lead them to prosperity.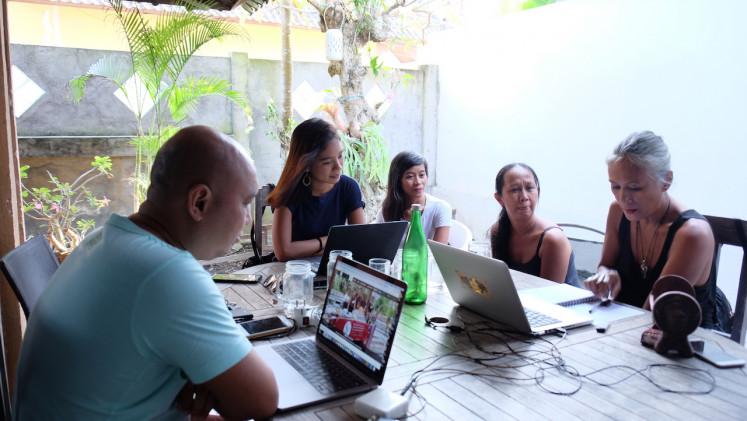 Assessment: Heru Dwi Soesilo (left), Nadya Puspa (second from left), Yuni (center), Meity Indra (second from right) and Landriati engage in a Sendok Kreatif Bali product and candidate assessment with the microphones – Biji Pedas and Damanak Tea companies. (JP / Courtesy of Sendok Kreatif)
In one year, Sendok Kreatif has empowered seven micro-enterprises financed by their sales of t-shirts and donations from individuals and restaurants. He needs more public support to continue serving the community. One of the success stories is that of Catherine Muljadi, who works part-time as manager of hotel operations. Sendok Kreatif has helped his company Apple & Co to refine and innovate its recipes. Also by strengthening its network and adopting a peer-to-peer model eliminating the inefficiency of the intermediary. Its apple crumbles, pies and more are now in great demand.
Also Read: Soydivision: Creative Blends of Indonesian Food, Art and Music
Nyoman Sudiasa has a passion for wines and spirits and is the founder of Three Brothers infused arak. With over 20 years of experience in local and international tourism, he found himself unemployed at the start of the pandemic. In partnership with a friend, a former mixologist, they distilled their own arak from coconut sap. They now produce over eight different flavors from local produce such as passion fruit and rosella. Plus, they broke new ground with concoctions like cold brew Kintamani coffee and spiced rum aroma.
Sendok Kreatif consciously creates a butterfly effect, generating a positive impact on its environment and its community, while relying solely on donations. "We believe that a new 'circle of life' will lead to new beginnings. The catalyst is creativity and the way people shape a new outlook on life, "said Landriati. "We are convinced that Sendok Kreatif can play a vital role in helping to establish sustainable businesses and incomes and reducing dependence on Bali's tourism sector. "