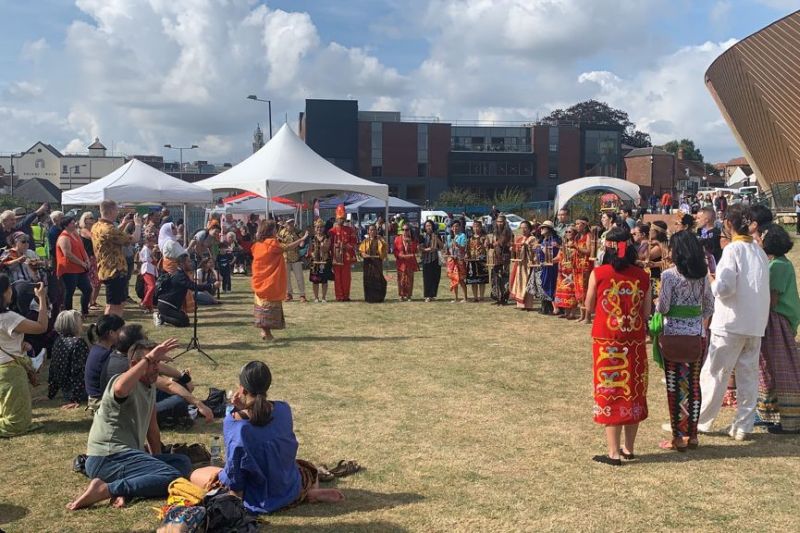 Embassy encourages promotion of Indonesian arts and culture in Essex
Since the easing of COVID-19 rules in July 2021, the Indonesian Embassy in London has organized five events to promote Indonesian culture and arts in the UK, which have been held in Surrey, Bristol, London, Oxford and Colchester
Jakarta (ANTARA) – The Indonesian Embassy in London has promoted the arts and culture of Nusantara (archipelago) to make Indonesia more famous in several parts of the UK.
"Indonesia must be renowned across the UK. Efforts to promote Indonesian culture, food and arts must be intensive and extend beyond major British cities," noted the Ambassador of Indonesia. 'Indonesia to the UK, Desra Percaya, in the Indonesian Embassy statement received here on Monday. .
Ambassador Percaya's remarks were made at the Rice and Spice Festival in Colchester, Essex.
At the festival, the Indonesian Embassy and Diaspora, who are members of Indonesian Culture-loving Women, presented a platform featuring Nusantara.
The festival featured Indonesian cuisines, traditional clothing and angklung (Indonesian traditional musical instrument) plays.
Indonesian arts and culture were also showcased at the festival through the Gantar Dayak tribe dance, angklung musical performances and lemper-make demos (Indonesian snack).
According to Percaya, the Colchester City festival attendees reached over 1,200 and featured several strategic aspects.
First, he noted that this was the first multicultural festival held in the Essex region after the UK's COVID-19 restriction rules were relaxed.
Second, he noted that more than 12 communities and countries attended the exhibition, so the Rice and Spice Festival has become the relevant event to strengthen mutual understanding between different cultures.
The third essential aspect highlighted by Percaya was that the activities to showcase Indonesian arts and culture was an initiative of the Indonesian women's diaspora in Colchester.
"Although they have lived abroad for decades, their soul and red and white spirit to promote Indonesia has never weakened," he noted.
He stressed that the promotion of arts and culture was the key to intensify the relations between the British and Indonesian peoples.
The Rice and Spice Festival was supported by local authorities, police and the Essex tourist community.
Colchester is a multicultural city located in the south-east of England and 110 kilometers from London. About fifty Indonesians live in the city.
Since the COVID-19 rules were relaxed in July 2021, the Indonesian Embassy in London has hosted five events in Surrey, Bristol, London, Oxford and Colchester to promote Indonesian culture and arts in the UK.
Related news: JaKreatif Fest 2021 officially organized to support Gernas BBI, BWI
Related News: Lontara Script Festival requests special status for native script
Related News: Ministry of SMEs, BI and Smesco Indonesia Launch Wastra Nusantara Center