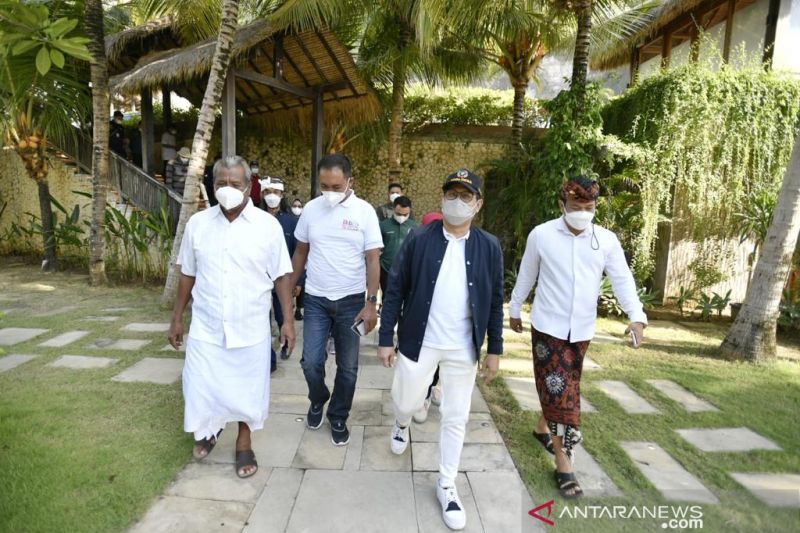 The administrative-customary villages synergy is the key to the preservation of culture
Jakarta (ANTARA) – Minister of Villages, Disadvantaged Areas Development and Transmigration Abdul Halim Iskandar said harmony between administrative and customary villages is key to preserving the village's cultural roots.
The minister, known as Gus Halim, highlighted the synergy between village administrative and customary administrations of Kutuh in Badung district, Bali, as a successful harmonization.
"I see a harmonious collaboration between the administrative village chief and the customary village chief of Kutuh village," said Halim during his visit to Kutuh village on Sunday.
Villages in Indonesia must learn from the success of Kutuh village, he noted while highlighting a recurring case in other villages where relations between administrative and customary villages are not cordial.
"We praised the amazing synergy of Kutuh village which needs to be emulated by other villages," said Halim.
Collaboration between village administrative and customary governments could take place in many sectors, including the economic sector through the development of village businesses, added the minister.
"The collaboration would generate economic income and the administration's ultimate goal of achieving prosperity for the villagers would be achieved," he said.
The administration of the village of Kutuh, located at the southern end of the island of Bali, is carried out by two village chiefs called locally "perbekel" who serve as administrative village chief, and "bendesa", the customary chief of town.
The village businesses in Kutuh village recorded an annual net profit of 14.5 billion rupees (about 1.015 million US dollars) out of a total of 50 billion rupees (about 3.5 million US dollars) in income.
Currently, the village has nine sectors of activity namely the village credit agency; Pandawa Beach Tourist Area; Gunung Payung Culture Park; a paragliding facility; Kecak dance show, goods and services unit, religious service unit, transportation unit and construction service unit.
Related News: Bali Prepares To Welcome Tourists As COVID Cases Diminish
Related news: Minister pushes village businesses to diversify their industry
Related news: Minister hopes extreme poverty will reach zero percent by 2024