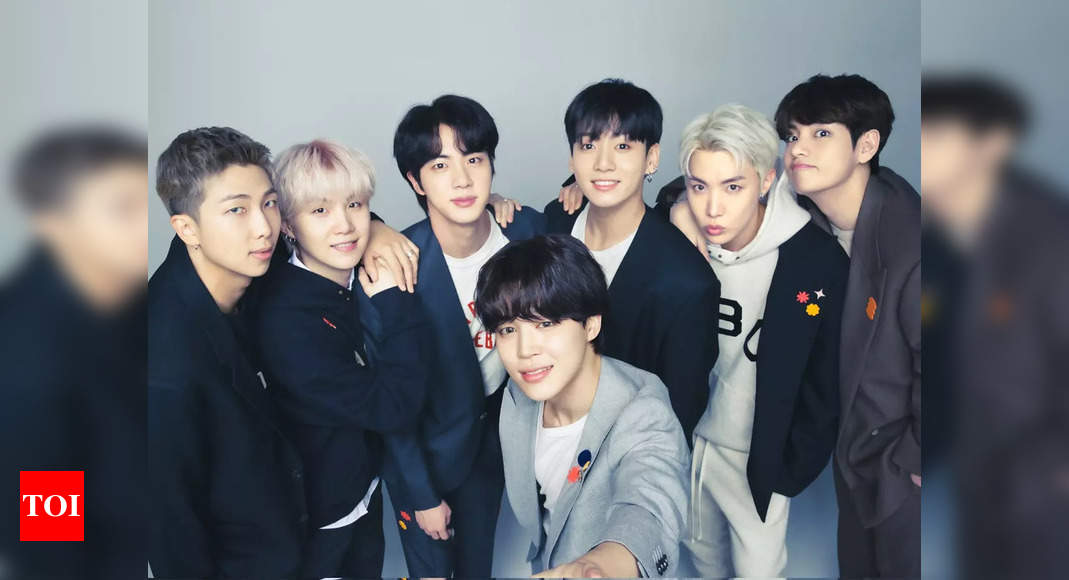 BTS Permission to Dance on Stage: Bangtan Boy Online Concert Highlights | K-pop Movie News
K-Pop superstars BTS showed ARMYs what they've been missing when they took to the stage for their first online concert of the year – "Permission To Dance On Stage."
The performance was on a scale equivalent to an offline concert broadcast live around the world from a stadium in Seoul.
With the help of state-of-the-art visual effects, fans around the world got their front row seats to witness all the dance breaks, powerful choreography, and some standout performances.


From the upbeat setlist to the V's knee injury to Jimin owning the stage and more, here are the biggest highlights from the concert.
BTS Kicks Off Their Concert With ON And Their Mega Hit "Fire" Soompi

BTS kicked off the Permission To Dance On Stage concert with a bang with their hit tracks "ON" and followed it up with "Fire." Dressed in all-white ensembles, the boys had ARMY screaming and cheering as they got groovy on stage with upbeat numbers.
Excuse me sir…JK!!!!!#BTSCONCERT #BTSPermissionToDanceOnStage https://t.co/145SDBgkNZ

— HeyBTS (@_HeyBTS1) 1635068370000
THIS JIMIN ON FIRE PERFORMANCE PARK WILL BE LEGENDARY IT WAS SO HOT AND SLEEVELESS JIMIN BYE #PTD_ON_STAGE… https://t.co/BjMNLBL1rh

— jeya⁷ (@sunnyztaee) 1635069887000
The whole setlist

ARMY were in for a treat today as the band put together an exciting setlist of their greatest hits. After getting the adrenaline pumping, they continued to hit the high notes with DOPE, DNA, Blue & Grey. It was the boys' performance at Black Swan that wowed ARMY with their dramatic and fierce intro. They then moved on to a fusion of Blood Sweat & Tears with FAKE LOVE.

Slowing the tempo down a bit, BTS then performed Life Goes On before ramping up the energy levels with Boy With Luv.

The band also added their hit tracks like Dynamite, Butter, Airplane pt.2, Silver Spoon, Dis-ease, Telepathy and mixed Stay with So What.

Other songs on the list included I NEED U, Save ME, IDOL, Spring Day and closed the concert on a high with Permission to Dance.
Beautifully✨❤️‍#bts #BTSCONCERT #PTD_ON_STAGE #PermissiontoDance #Butter #Dynamite https://t.co/8rJR3Z3jIK

— m⁷ (@m_m13795885) 1635072524000
this black swan intro is so beautiful and cooler indeed such a satisfying masterpiece #PTD_ON_STAGE… https://t.co/xI8qKVH4Qs

— jeya⁷ (@sunnyztaee) 1635072087000
V's knee injury

Despite his knee injury, V made sure to give his fans an unforgettable performance. The star, who injured her leg during rehearsals, was asked to take time off during the show. However, not one to let injuries stop him, V was seen taking center stage and performing some nice little jigs while leaving his bandmates – Jimin, JungKook, J-Hope, RM, SUGA and Jin behind. to wow fans with their upbeat choreography.

This is what BLACK SWAN looks like If the Black Swan was a person, it could be Kim Taehyung #BTSCONCERT #BlackSwan… https://t.co/HX09YkMh1v

— Eternal_⁷ (@sshaa007) 1635077251000
Park Jimin's Performance Prompts ARMY To Call Him "Dance God"

While V was sorely lacking in some of the band's choreography, fans couldn't complain, especially with Park Jimin brining his A-Game. The star was dubbed 'Dance God' with his moves which proved too hot for the crowd to handle.

JungKook also helped him warm up the screens. All it took was one shot of the hunk showing off his abs that sent ARMY overboard.
JUNGKOOK CROP TOP IM NOT FCKING OK #BTSPermissionToDanceOnStage #BTSCONCERT #PTD_ON_STAGE https://t.co/Tys5Y72DQC

— anju⁷ ✰ (slow cuz uni) (@jjksceo) 1635070556000
This Jk and Jimin are gonna be my death #BTSPermissionToDanceOnStage #BestOfJimin #BTSCONCERT #PTD_ON_STAGE https://t.co/GdsMNrHjmY

— . (@bhieiya) 1635077231000
RM says Army hope we meet soon
Asking fans to hope they'll all be together, singing and dancing again, band leader RM took to the mic to say, "Army hope we meet soon."

He added in a message translated from Korean, "Meeting you in person is really different. We have prepared a lot of songs that you like. Until that day, we will not be discouraged and we will be waiting for you."
RM's message to the Army #PTD_ON_STAGE #PermissionToDanceOnStage #PTDonStage #BTSCONCERT #RM https://t.co/hNHNf8mC97

— BTS DAILY (@BTS_daily_twt) 1635078914000
BTS ends their concert with "Permission To Dance"

Ending the show on a high, BTS found the perfect song to spread their message of hope with ARMY around the world by performing "Permission To Dance." As purple balloons filled the stadium and fireworks erupted in the background, the boys carried on the show singing and dancing to their latest English hit before finally saying goodbye to the army and pledging to meet them soon with their LIVE concert in Los Angeles next month.

I really enjoyed the show, actually I have no words to describe my feelings.. Just hope to meet you one day.… https://t.co/HaHDmldBgT

— Y-dr (@YareliKim7) 1635077448000