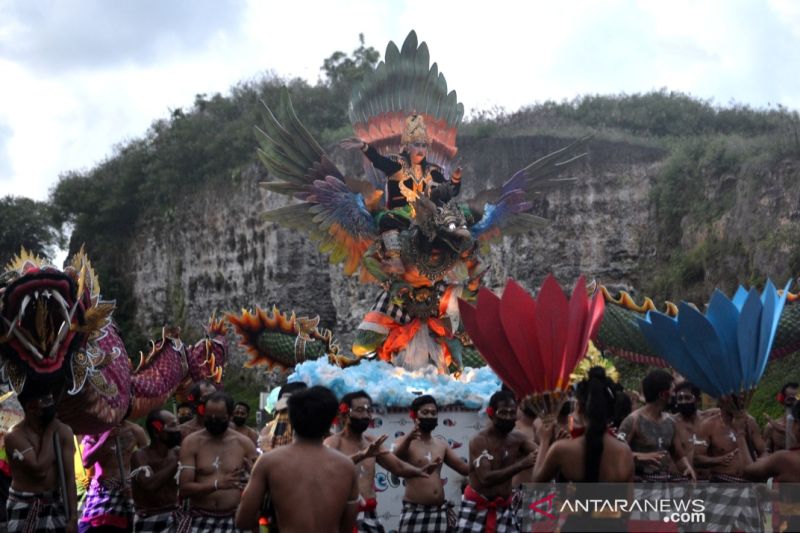 Garuda Wisnu Kencana's kecak dance entertains tourists on vacation
Badung, Bali (ANTARA) – The management of GWK Culture Park (Garuda Wisnu Kencana) put on a kecak dance performance to entertain tourists during the Christmas holidays 2021 and New Years 2022.
"GWK Cultural Park is committed to showing various Balinese cultural art works, such as kecak dance. It fits our vision and mission to become the best tourist attraction that supports the preservation and development of cultural arts in Bali, "GWK Culture Park said. The head of the marketing and events division, Andre Prawiradisastra, explained in Badung district on Sunday.
Prawiradisastra said that the performance of the GWK kecak dance which premiered on December 17, 2021 took place every Friday, Saturday and Sunday. However, during the Christmas and New Year holidays, it was performed daily for visitors.
"We present the Garuda Wisnu Kencana kecak dance every day from December 28, 2021 to January 2, 2022, to complement the year-end tourist attractions," he said.
Related News: New Tourism Icon GWK Statue Expected To Draw More Tourists To Bali
The GWK kecak dance is expected to be an iconic artistic performance at GWK Culture Park and there is no additional cost for visitors who wish to attend the performance, he added.
According to Prawiradisastra, the GWK kecak dance is distinct from its contemporaries, as it combines the creative dance art of kecak dance with Ogoh-Ogoh.
"We hope that the kecak dance performance can be a special attraction for tourists to visit GWK cultural park," he said.
Additionally, Prawiradisastra said his team applies strict health protocols to create a sense of security and comfort as well as to take proactive action against the spread of COVID-19.
In addition, GWK kecak dancers are also required to wear masks and face protectors during their performances, in accordance with health protocols.
"All visitors to the GWK Cultural Park are required to register through the PeduliLindungi app or present a vaccination certificate, wear a mask and respect the rule of physical distancing in the region," he said. .
Related News: Bali Prepares To Welcome Tourists As COVID Cases Diminish
Related News: Bali to Provide Travel Guide for Foreign Tourists