The mesmerizingly beautiful new underwater sculpture under Bali's waters
From its pristine beaches to lush tropical forests, Bali is undoubtedly home to some of the most breathtaking scenery in the world, and this latest underwater episode is no different. A breathtaking sculpture has just hit the Balinese waters, and it's both eerie and captivating.
Off Gili Meno sits the magnificent haunting sculpture titled Nest, where 48 life-size human figures stand, curled up at the bottom of the sea or intertwine.
Image: BASK
Each digit in Nest was created using casts of real people, making each one completely unique with their own facial expression.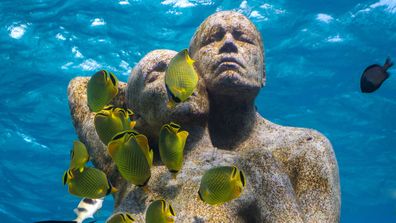 Image: BASK
The piece was created by a renowned sculptor and environmentalist Jason deCaires Taylor whose underwater creations currently reside in the Caribbean, the Thames and the Canary Islands. While the creation will undoubtedly become a hot attraction with tourists, the goal of the project is to encourage reef growth.
Gili Meno Island has a permanent population of only 500 people and is known for its turtle habitat and abundant ecosystem. To adapt to the delicate environment, the sculpture is made from environmentally friendly pH neutral concrete and within a year will become one with the reef.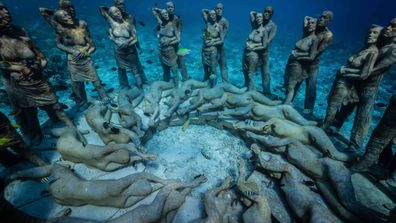 Image: BASK
"First of all Nest is an environmental space. The figures are arranged in a circular formation like an echo of the circle of life, and they will soon be teeming with life. Soft corals and sponges are expected to thrive quickly, paving the way for delicate hard corals and a fully established reef, "deCaires Taylor said in a statement.
As for getting there? The sculpture sits in shallow water and is a short walk from BASK Gili Meno Beach Club which will open with 87 luxury villas in 2019.