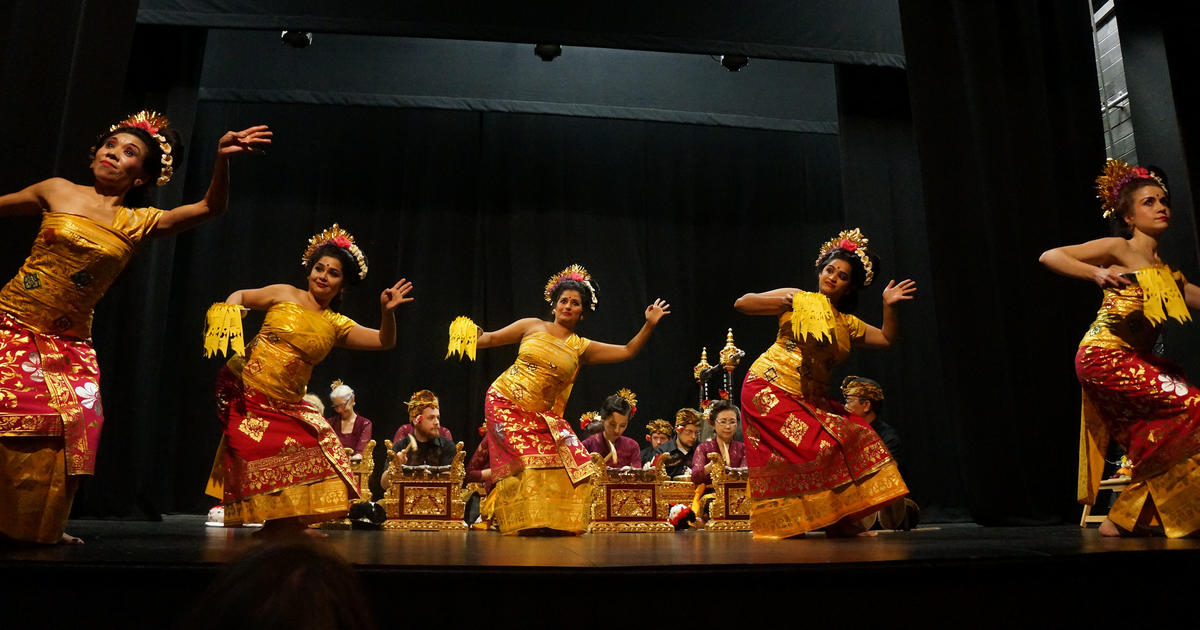 UK School of Music presents a concert of music and dance from around the world
LEXINGTON, Kentucky (March 24, 2022) — The University of Kentucky School of Music World Music Ensembles will present the World Music and Dance Concert at 4 p.m. on Saturday, March 26 at the Singletary Center for the Arts Concert Hall. The concert is free and open to the public.
The show will feature British ensemble Gamelan Angklung Langen Kerti with special guests I Made Lasmawan and Ni Ketut Marni; British ensembles Hanulchida Korean Drumming and Folksong, led by Donna Kwon; the UK Bluegrass Ensemble, led by Ellyn Washburne; the Korean group Folksong, led by Hada Jang; and Teddy Kabengele from the Democratic Republic of Congo, accompanied by Lee Carroll.
A Balinese Gamelan Ensemble is a traditional percussion ensemble from Indonesia. The UK Balinese Gamelan Ensemble features Bali's 4-tone angklung gamelan and includes various large and medium bronze gongs, keyed xylophones of various sizes, drums, suling flutes and other percussion instruments like the ceng ceng en turtle shape. Balinese gamelan is known for its shimmering metallic sound and fast interlocking patterns called "kotekan". The Balinese gamelan angklung ensemble used by the UK Gamelen Ensemble was purchased in 2016 and given the name "Langen Kerti" in a special naming ceremony by master artist I Made Lasmawan. The expression "langen kerti" means enjoying the activities of a happy life or "following one's happiness". The gamelan will perform two dance pieces: an alluring female dance called Taman Sari and a solo male dance from the masked dance drama Topeng Keras. In addition, they will also perform two traditional pieces for gamelan angklung. The first is Tabuh Kempur Dang and has three movements with intricate interlocking Kotkean patterns. The second is Dongkang Menek Biyu (lit., "frog climbing a banana tree"), which is a traditional gamelan angklung piece performed for Balinese cremation ceremonies.
The UK Korean Percussion Ensemble Hanulchida or 'Drum the Sky' features Korean percussion instruments including the hourglass-shaped changgo, puk barrel drum, large jing gong and small hand-held gong called 'swe'. They will perform an adapted version of a canonical piece from the samulnori repertoire called "Uddhari p'ungmul".
Under the direction of Ellyn Washburne, the UK Bluegrass Ensemble features string instruments such as banjo, fiddle, bass, guitar and mandolin. They will perform "Kentucky Waltz", "Salt Creek" and "It's Raining Here This Morning".
The Korean folk song group is a new addition to the British world music group and is led by Ethnomusicology graduate student Hada Jang. They will perform a mix of Southwestern Korean folk songs called "Namwon Sansong" and "Chindo Arirang."
Finally, we are honored to introduce multilingual musician and singer, Teddy Kabengele, who sings in Cibemba, Swahili, Lingala, French and English. He will be accompanied by Lexington musician Lee Carroll, director of C the Beat, Lee Carroll's Ethos and Tin Can Buddha. Kabengele's music is rooted in his Luba ethnic identity from the Democratic Republic of Congo where he fled with his siblings to a refugee camp in Zambia as a young teenager. Growing up in a refugee camp in Zambia, Teddy sang and performed gospel music to comfort, encourage and entertain others in her community.
From April 1-3, the UK Division of Musicology and Ethnomusicology will host the Midwest Chapter of the Society for Ethnomusicology (MIDSEM) conference in a hybrid format of in-person and virtual presentations. Donna Lee Kwon, Associate Professor of Ethnomusicology, has been named MIDSEM President and Hada Jang has been named Student Representative for 2022. Pre-registration is required. For more details visit https://midsem.wordpress.com/ Where register here.
For more information on the UK School of Music's World Music Ensembles, visit https://finearts.uky.edu/music/world-music.