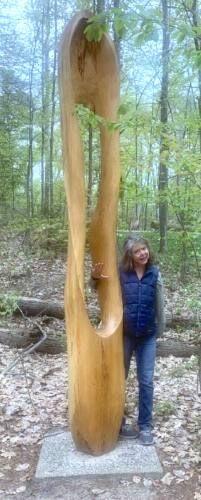 The Cadillac Arts Council donates another sculpture to the city; will be placed at the mouth of the canal | New
[ad_1]
CADILLAC – Municipal teams will install a concrete slab at the mouth of the Cadillac side of the canal to exhibit a sculpture recently donated by the Cadillac Arts Council.
On Monday, Cadillac city council agreed to accept the donation, which will be placed on the north side of the mouth of the canal.
According to council documents, Paul Brown of the Arts Council approached the city again this year regarding the donation of an art sculpture. Due to the lack of an art fair or food booth at this year's Festival of the Arts, it has established Arts Council funds that can be used to purchase the art sculpture. In addition to the reallocated funds from the Arts Council, the Barnett family has added a donation, which is applied towards this purchase.
The donated sculpture was discovered by Brown during a sculpture walk in Elk Rapids.
The only commitment required from the city would be for the Department of Public Works to install a concrete slab, which we have done the city for other projects such as frisbee golf courses and public art projects, both of which last year sculptures (one near the Rotary pavilion and one near the bridge over the River Clam).
Cadillac City Manager Marcus Peccia said the proposed location for the sculpture is far enough from the canal that ice jams do not create a potential hazard to the object. He added that they determined that his placement would not create any right-of-way conflicts either.
"Our hope is that this is the start of other sculptures and works of art on display at Cadillac," Brown said after the Arts Council donated the two sculptures last year. "We know that art brings people to the city. It helps make life more exciting and interesting. It gives people something to enjoy."
[ad_2]