OMA / shohei shigematsu design 'ReefLine' public underwater sculpture park in Miami Beach
OMA / shohei shigematsu designed miami beach's first public underwater sculpture park, snorkeling trail and man-made reef. "ReefLine" will function as an artificial reef to protect and preserve the city's marine life and coastal resilience and provide critical habitat for endangered reef organisms, promoting biodiversity and enhancing coastal resilience. The OMA will design the master plan for the ReefLine as well as a separate sculpture inside, working with a team of expert marine biologists, researchers, architects and coastal engineers. "The ReefLine is unique because it draws attention to and mitigates the dangers of climate change in Miami, while simultaneously enriching the city's vibrant arts scene,""says shohei shigematsu, partner of OMA. "We look forward to working with the diverse group of experts and professionals on our first underwater cultural and sculpture master plan. "
all images courtesy of the OMA
Stretching over 11 kilometers, Reefline is a large-scale environmental public art project designed by cultural venue creator Ximena Caminos, who will serve as the artistic director of the project, and preservation company bluelab. for the master plan, OMA designed a geometric and concrete modular unit that can be deployed and stacked from the beach from south to north, following the topography of the seabed. the living breakwater is the connective tissue of the overall masterplan and will be punctuated by a series of site-specific installations.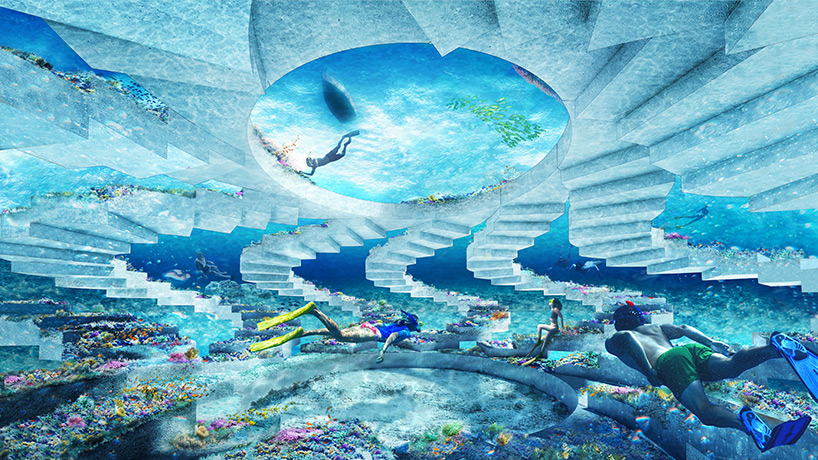 "ReefLine" will be completed in several phases, with the first kilometer due to open in December 2021. the first phase will open with permanent installations by argentinian artist leandro erlich and shohei shigematsu / OMA. erlich will create an underwater embodiment of his sand-sculpted "traffic jam", which was commissioned by the city of miami beach during miami beach art week 2019. titled "concrete coral", the specific installation at the site will reframe cars and trucks – symbols of emissions that put our planet at risk – as new vehicles for environmental change.
OMA / shigematsu sculpture explores the nature of weightlessness underwater. the staircase, a rudimentary architectural element, has gone out of its usual context and transformed into underwater madness. a series of winding spiral staircases create a three-dimensional structure reminiscent of marine life. the organic form provides layered areas for coral reef growth and interstitial spaces for exploration, while the stairs revolve around a central forum for underwater activities.
Meanwhile, artists Ernesto Neto and Agustina Woodgate were selected for subsequent commissions.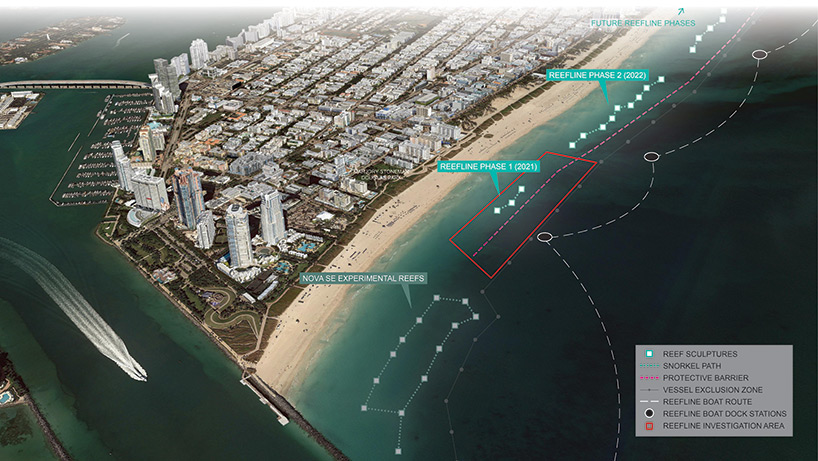 "This series of artist-designed and science-lit artificial reefs will demonstrate to the world how tourism, artistic expression and the habitat critical to creation can be aligned," said ximena caminos. "The ReefLine is a unique investment in civic infrastructure, public art and environmental protection that will pay dividends for decades to come and attract environmentally conscious tourists and art lovers to Miami. " ReefLine was developed in collaboration with coral morphology researchers and the University of Miami and supported by the City of Miami Beach.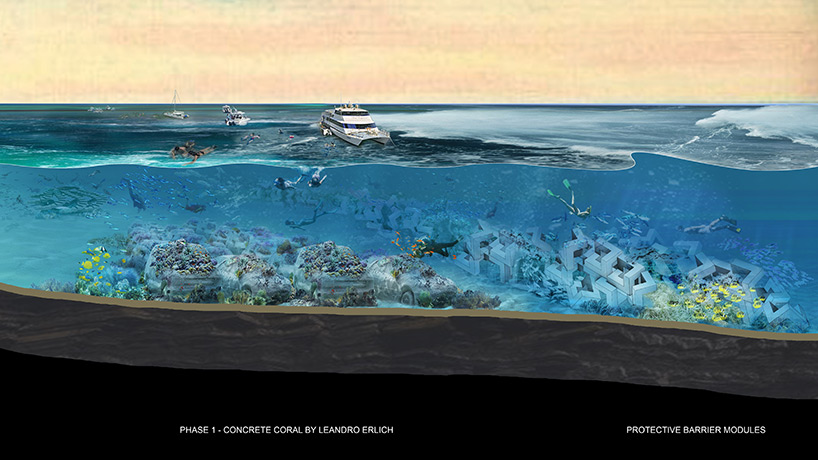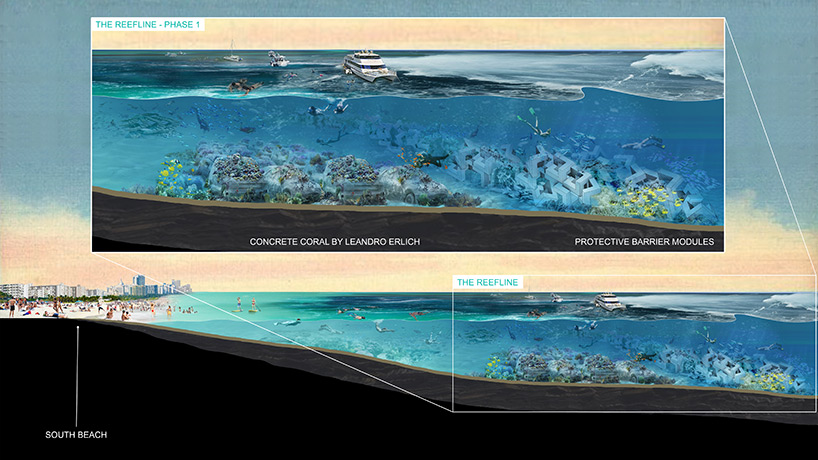 Direction ReefLine
artistic director & founder: Ximena Paths
main planner: Shohei Shigemastu / OMA
conservation advisers: brandi reddick, cultural affairs manager, city of miami beach and jérôme sanz, independent curator
Advisory Board:
katherine fleming, founder and managing director, bridge initiative
colin foord, marine biologist and founder, morphological coral
brian k. haus, professor and chair of the department of ocean sciences, university of miami
diego lirman, ph.d., associate professor, university of miami
tori linder, program director + impact producer, panther path
landolfrhode-barbarigos, assistant professor, department of civil, architectural and environmental engineering, university of miami
Elizabeth Wheaton, Environment and Sustainable Development Department, City of Miami Beach
nina azzarello I design boom
November 19, 2020