OLI Architecture places Richard Serra's London Cross sculpture in charred wooden pavilion in New York City
located on private estate in bedford, new york, oli architecture's london cross pavilion takes its name from the richard serra sculpture it houses. on the outside, the site-specific structure is enveloped in a charred accoya Frame rain shield, designed to acquire a natural patina over time. inside, the monumental sculpture's two fifteen-ton patinated steel plates run diagonally between the corners of the space, one in contact with the ground and the other perched atop.images from FRAME studios, all courtesy of OLI
OLI Architecture was commissioned to create a permanent home for Richard Serra's sculpture "London Cross" (2014), which is made up of two fifteen-ton patinated steel plates. Balanced on its edge, the lower steel plate runs diagonally between two corners of the room, while its counterpart, perched atop with a point load in the middle, runs at right angles to it. The monumental artwork is held in place by a specially designed hydrated lime wall partition that eliminates construction joints. the position of the lower plate divides the pavilion into two galleries, bringing an immediate awareness of the presence of the invisible side.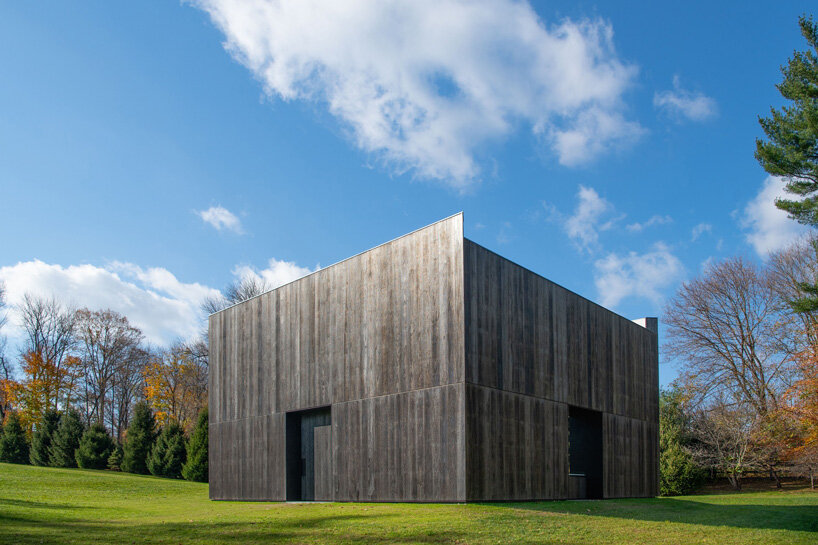 the pavilion, designed not only to be a container but to become spatially, figuratively and contractually linked to the art inside, offers the visitor a tranquil sanctuary where time and space merge. its exterior façade is wrapped in a carbonized acoya wood rainscreen, which will transform over time while protecting the steel plates from the elements inside. on the roof, north-facing skylights provide soft indirect lighting in the gallery, which changes throughout the day.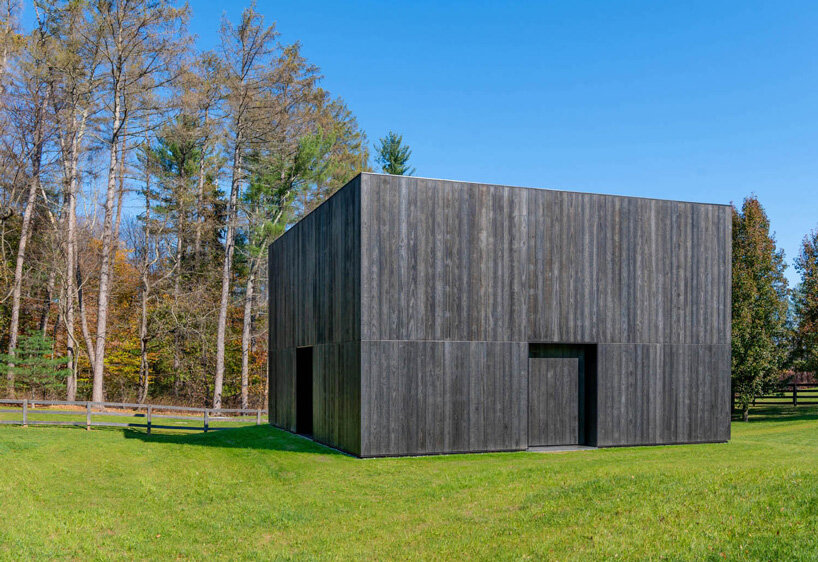 an integral component of the visitor experience, the pavilion echoes Serra's consideration of space as "primary material". from the structure's careful location twenty degrees east of true north, minimizing unwelcome shadows through the carefully sculpted jagged skylight, to the charred wood rainscreen veiling to anticipate spatial tension / temporal inside; the pavilion is complex with deceptively simple results.