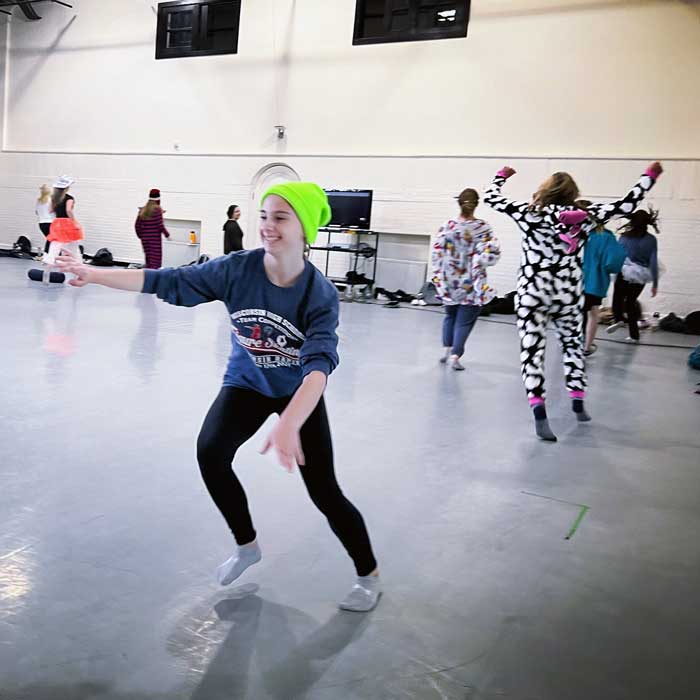 Body in Motion Dance Class teaches students about movement and self-care
Students incorporated self-care methods, learned about the body, and worked on movement and dance exercises during a Body in Motion Block 2 dance class.
"The course is based on the principle that the body can be a source of knowledge. By listening, touching and observing one's own body and working collaboratively with their peers, students practice experiential learning daily. We movement every day. We rest, we run, we play, we dance, we explore, we play more, we reflect, we discuss, we process, and we journal. Together," says Patrizia Herminjard '96, lecturer in dance in the Department of Theater and Dance.
There were 26 students enrolled in the class, which isn't unusual because Herminjard's classes usually attract a large number of students, says Shaylan Quinnthe academic administrative assistant of the department.
"I chose Body in Motion because I heard rave comments on the course, as well as the teacher. I was also very drawn to the self-care and mindfulness aspect of the course, and the idea that caring for and understanding your body can be a form of duty," says Eliza Broan '25.
Broan's favorite part of the class was the self-care homework assigned to them.
"It was a necessary addition to my life to look at my day from an intentional perspective. Much of college for me was scheduled and repetitive, which isn't necessarily a bad thing, but this block allowed me to step back and see what I was doing with my days that contributed or harmed my well-being," says Brown.
Another important lesson Broan learned was how to notice minor changes and feelings in his body, which improved his understanding of how his brain and body communicate during and through movement.
Some questions class members asked were how to gain knowledge of themselves and others through listening, what is listening, how can they listen without expectation or judgment, and how they can stay open to change, says Herminjard, a graduate from Colorado. College with a degree in philosophy.
Many students in the course appreciated the sense of community created by their class.
"Patrizia fostered a sense of community and trust that allowed my class to fully engage in all kinds of play to move our bodies or trust each other," says Greer Harnden '23.
"I learned to pay attention to my body, and that led me to behave in a way that suited me better. I also learned to prioritize self-love and self-care," Harden says.
A typical day would start with students gathering in a circle, where they would discuss class assignments or field trips, then stretch and do other warm-up exercises, to prepare for any type of movement they would do that day. The exercises ranged from contact improvisation with a partner to individualized experimentation with the Feldenkrais methodBroan said.
The Feldenkrais Method asks students to slow down and pay attention to their small movements, Harnden says.
Both Broan and Harnden agreed that the class would feel different if it wasn't taught on the block plan.
"Part of the great thing about this class is that you are, for lack of a better word, forced into full immersion in self-care. It allows you to understand your body and your mind in a way that I personally never realized before," says Broan. "Being in class for three hours, moving, practicing mindfulness and experiencing new ways to connect our body and mind is a really special thing. When we leave at noon and come home unstressed by any other class and honestly and diligently focus on how to integrate self-care and better movement practices into our daily lives, it is something I never thought I'd need, but I'm so glad I was able to find out."
"The bouldering plan allowed me to fully immerse myself in this class. If we were on a semester system, I wouldn't be able to attend fully as this course requires because I'd be focusing on so many different things," says Harnden, an education student. "For example, in the first week, our homework was to focus on self-care and doing something that concerns us every day. If I had been enrolled in three or four other courses, I would not have been able to immerse myself in this self-care process and would not have gained as much from it.
At first, Grace Witulski '25 struggled to understand the purpose of the Self-Care Mission, but after the first week, it became clear.
"The deeper purpose of this assignment was to help us internalize how the craziness of everyday life, especially in college, can make it difficult for us as students to include moments of self-care in our daily routines. The mission showed us how important implementing self-care can be and how it can really have a positive effect on our overall mental health," says Witulski.
In addition to self-care assignments, students were given creative and visual assignments, including a "body map," where students made a life-size drawing of themselves that incorporated different elements of their identity and of their history with movements in an abstract or realistic way.
A remarkable class exercise for Harnden was when students were tasked with pretending a classmate was clay and then molding them across the room.
Witulski agreed the class would have been "very different" if it hadn't taken place on the block plan. "Much of the class discussed self-care and how to deal with the craziness of life with 'self-care' moments, which vary by each student's personal definition. Because it was our only class, we were able to really disengage from common stressors like classroom work and focus more deeply on what self-care was," says Witulski.
Witulski's favorite part of the course was the excursions they took, especially when they went to a live performance of Bandaloop Dance Companyan aerial dance group, at the University of Denver, where the group danced around the sides of buildings.
Almost exactly 14 years ago, Bandaloop played on campus at Colorado College inaugural performance of the Cornerstone Arts Center.
Herminjard says she hopes her students will leave the classroom knowing that their bodies are a rich source of knowledge and that caring for and listening to their bodies is vital for their mental and physical well-being, she says.
Herminjard co-chaired dance workshop during her studies, then directed the CC Dance Festival from 2007 to 2013. She danced professionally in New York and performed and taught in Taiwan, China, Bali and Switzerland.
The class, which took place at Cossitt Hall, satisfied the creative process requirement of all colleges.