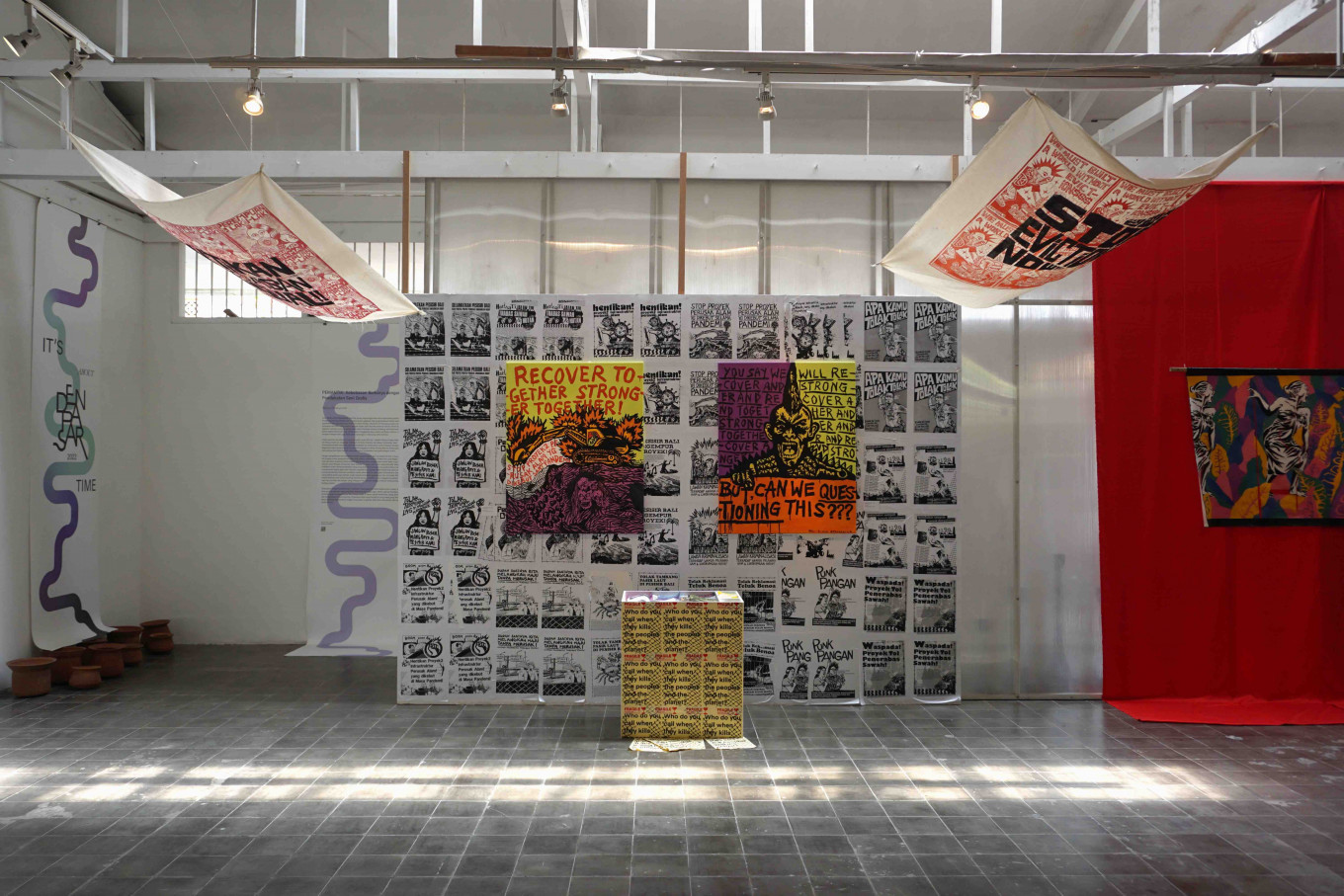 DenPasar 2022 It was about time! focuses on emerging curators – Art & Culture
Richard Horstman (Jakarta Post)
Denpasar ●
Fri, November 11, 2022

2022-11-11
14:00
0
c5efdab62cf99b86ccd9cf6482393571
1
Art & Culture
bali, denpasar, art exhibition, artwork, art curator, artist, balinese artist
Free

A vibrant new initiative envisions a sustainable arts ecosystem in Bali.
CushCush Gallery (CCG) launched in 2017 DenPasar Art+Design, an innovative annual program aimed at making the city a national and international center for design and creation. To enhance and grow the city's reputation through a series of community-uniting events, DenPasar strives to fill gaps in arts and creative infrastructure and help build a sustainable arts ecosystem in Bali.
"Creatives from all over Indonesia and overseas are drawn to Bali for its lifestyle, rich culture and inherent creative dynamics. Over the past decade, many have moved here, while d "Others often come back. As the island's multicultural society evolves, so does its potential," said CCG co-founder Suriawati Qiu.
With her partner Jindee Chua in 2016, she introduced CCG to the art and design landscape, bringing new and exciting energy to the local creative scene.
A platform dedicated to multidisciplinary collaboration by bringing together creative fields such as architecture, communication design, interior design, product design, visual and performance arts and crafts, philosophy of CCG addresses creative education, creative collaboration, creative community by engaging with Balinese, Indonesian and international communities.
Collaboration: Emerging curator Pradnya Paramita collaborates with children from Gemlobang Studio, Sinar Pande Studio and Studio Bares and presents their work during DPS22, titled "Batuan art" by Studio Gelombang. (Courtesy of CushCush Gallery) (Courtesy of CushCush Gallery/.)
The DenPasar2019 program, In Transition, launched a series of capacity building programs highlighting a residency program for young curators. At DenPasar2022: it was TIME! the curatorial residency program follows the 2019 initiative with events led by mentors Ayos Purwoaji and Mitha Budhyarto, curators and scholars with experience in organizing regional exhibitions and art projects, national and international.
Participants in this year's curatorial program were selected senior students from the Indonesian Institute of Arts (ISI) Denpasar and members of the public from Bali and other Indonesian islands through a call for applications.
DenPasar Art+Design 2022 (DPS22) runs from October 7 to November 19, themed It's Time! The main program presented a full offline curatorial residency in collaboration with ISI Denpasar from October 7 to 21. Thirteen participants learned from mentors, speakers and practitioners from the Indonesian contemporary arts and design scene. Events included workshops on art conservation, exhibition design, exhibition/art project management and idea writing.
Speakers included Senior Indonesian Contemporary Artist and DPS22 Advisor FX Harsono, Curator Hendro Wiyanto, Jogja Biennale Curator and Director Alia Swastika, Exhibition Designer Sigit D Pratama, Award-Winning Product Designer Alvin Tjitrowirjo and designer Angela Stephanie Meyrina, architect and curator of the Indonesian pavilion for Venice Biennale 2020 Ketut Dirgantara, arts and events manager Gustra Adnyana, public communications and community manager Ruth Onduko, award-winning writer and scholar Sonia Piscayanti and works curators of art Saiful Bakhri, Laila Fitrani and I Wayan Sumadi.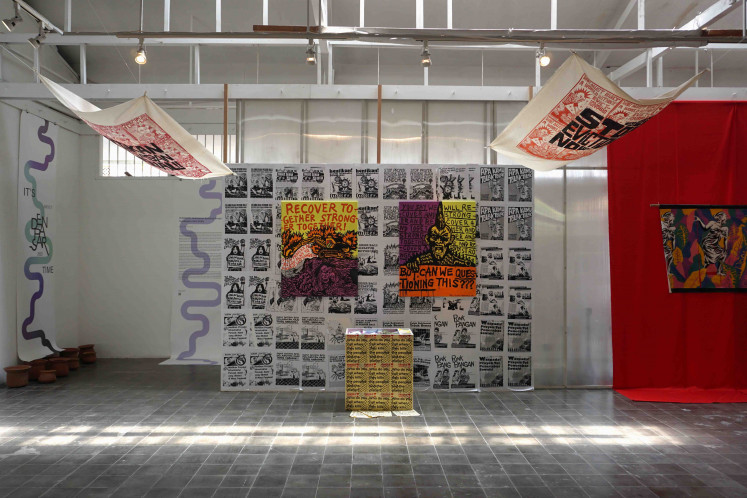 Eye-catching: "Bukan Recover Together, Bukan Stronger Together" 2022 by Gilang Propag, an installation comprising acrylic and gouache paintings on canvas, wheat paste posters on the wall, screen printing on fabric and pages of Zine. Organized by Wicitra Pradnyaratih. (Courtesy of CushCush Gallery) (Courtesy of CushCush Gallery/.)
"Curators provide artists and the community with new perspectives. They can inspire artists to produce meaningful work through ongoing conversations and spark critical discourses and insights that create a vibrant arts scene and creative community. The initiatives curators engage the public and ultimately create a better society. Unfortunately, Bali lacks curators," Suriawati told the Jakarta Post, adding that there is no formal curator training in Bali.
"The practice is relatively young in Indonesia. The role of curators is essential to a healthy artistic and creative ecosystem beyond the market."
In response to the It's About TIME! curated by DenPasar Art+Design 2021 (DPS21), emerging curators Ni Wayan Penawati, Ni Wayan Satiani Pradnya Paramita and Wicitra Pradnyaratih were featured at the CCG. Guided by DPS21 mentors Savitri Sastrawan and I Made Susanta Dwitanaya, they featured the work of I Gede Sukarya, Gusti Dalem, Eka Sutha, Gilang Propag, Ketut Nugi, Ayu Dyah Wulandari, Srizkiki, street artists Djamur Komunitas and artist collectives of Gelombang Studio, Sinar Pande Studio and Studio Bares.
"Through the DPS21 program, I learned the theory of conservation and also designed this year's exhibition proposal," said Pradnya Paramita who collaborated with three art collectives to present their works at the GCC . A Fine Arts graduate from ISI Denpasar, she is pursuing a Masters in Art Education at Malang State University, East Java.
"This process was interesting because I was asked to dig deeper into the Balinese cultural space of non-formal arts education. Each collective is unique, with visions, philosophies and teaching methods of the art. The program gave me broader and deeper knowledge. I got to know others and their challenges in the arts. I implemented new ideas in this exhibition while collaborating with many other people from various fields.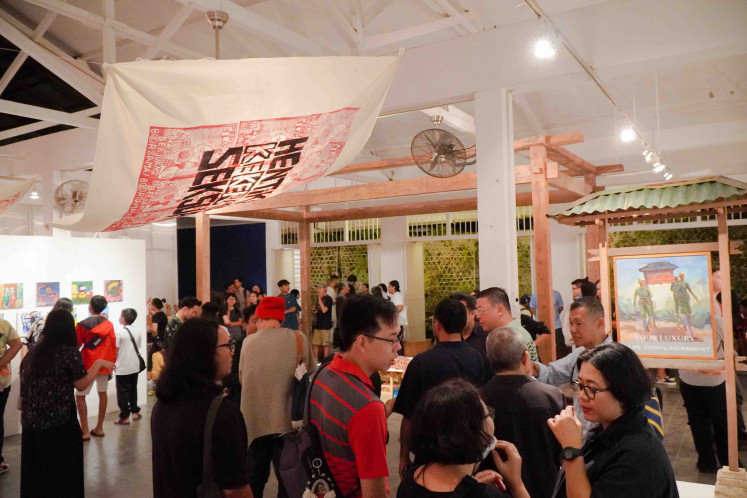 Art lovers: in the photo, the opening party of DPS22 and the exhibition Its About TIME! hosted by Ni Wayan Penawati, Pradnya Paramita and Wicitra Pradnyarath, October 7. (Courtesy of CushCush Gallery) (Courtesy of CushCush Gallery/.)
"DenPasar is a place to learn and refresh entering the real art scene. This brilliant idea of ​​CushCush Gallery brings together art students and young curators with experts, namely writers, artists and professional curators. ISI Denpasar supports this program because it directly enriches our students' experience with the real world of art," said Rector of ISI Denpasar and the event's opening speaker, Prof. I Wayan Kun Adnyana.
"Last year's program was online because of the pandemic. And because of the restrictions, I had more time to find out about the studies that interest me a lot," said Wicitra Pradnyaratih, a graphic designer. 30 years old with a passion for the arts and illustration. "I have enjoyed working with the artists, seeing them practice and discussing their creative process. I am grateful that many artists and practitioners enjoy working and learning with others."
"In Bali, art is mainly consumed as a commodity due to the impact of tourism. As a result, there are questions about whether conservation is a sustainable profession. There is, however, a growing awareness of the importance of conservation practices. We are confident that this initiative will spark people's interest in conservation and will be encouraged and supported," Suria said.
"DenPasar Art+Design aspires to give voice to the emerging concerns of our time and there is a need to investigate the missing links in our creative ecosystem. DPS22 is our most ambitious DenPasar program to date. The theme is derived from the word Balinese for time, kala, considered a marker of separation, change and encounter. Paying homage to the city's roots and the culture of Bali, It's About TIME! invites everyone to come together and explore possibilities, ask questions, seek potential and initiate change for a better collective future."