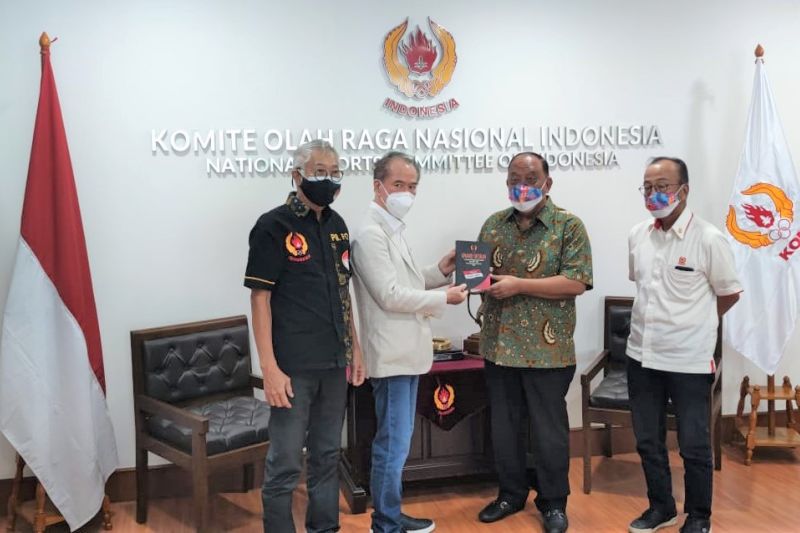 Indonesian lion dance contributes greatly to sports tourism: KONI
I am grateful that the lion dance has been included as a sports branch
Jakarta (ANTARA) – The Lion Dance Show, or barongsai, contributes enormously to boosting the country's sports tourism, the chairman of the National Sports Committee (KONI), Marciano Norman, said on Friday.
Norman suggested to the leadership of the Board of Directors of the Indonesian Lion Dance Federation (PB FOBI) to organize events regularly to produce great lion dance athletes. He also advised PB FOBI to collaborate in improving the governance of the organization.
The barongsai, or lion dance, has a special value that supports the development of Indonesian sports tourism, he said. Therefore, he affirmed that some special events in synergy with regional programs should be organized.
Earlier, KONI welcomed the visit of PB FOBI officers to Senayan, Jakarta on Wednesday, January 19, 2022.
During the meeting, PB FOBI President Edy Kusuma spoke about the lion dance training programs still going on amid the COVID-19 pandemic.
"During the pandemic, FOBI has never halted its operations across Indonesia," he added.
Related News: Donggala will be a national attraction after state capital transfer
Currently, Kusuma noted that PB FOBI encompasses 25 provincial directorates across Indonesia. Representing members of society who perform and enjoy the Indonesian lion dance, he expressed his gratitude that the lion dance is not just a form of entertainment.
"I am grateful that the lion dance has been included as a branch of sport," he said.
PB FOBI also noted that some Indonesian lion dance athletes have participated in several international championships.
Besides the commendable lion dance athletes, the judging process of lion dance competitions in Indonesia was smooth as Indonesia always aims for international regulations.
Related news: Indonesia focuses on upskilling tourism professionals: Uno
The board leadership of the Indonesian Lion Dance Federation has also released a translated book of international regulations as a guideline for lion dance sports in the country. Several countries have taken inspiration from Indonesia as a judge due to which PB FOBI has planned to hold a related seminar in 2022.
PB FOBI is also optimistic that the lion dance would be competed in the National Sports Week (PON) in the future, as the sport has become embedded in Indonesian culture for a long time.
"The story of barongsai) dates back to ancient times in Indonesia. Artists have expanded to more than people of Chinese descent," he noted.
Related News: Indonesia can take Omicron lessons from 6 countries: working group
Related News: G20 finance track moved to Jakarta due to Omicron concerns