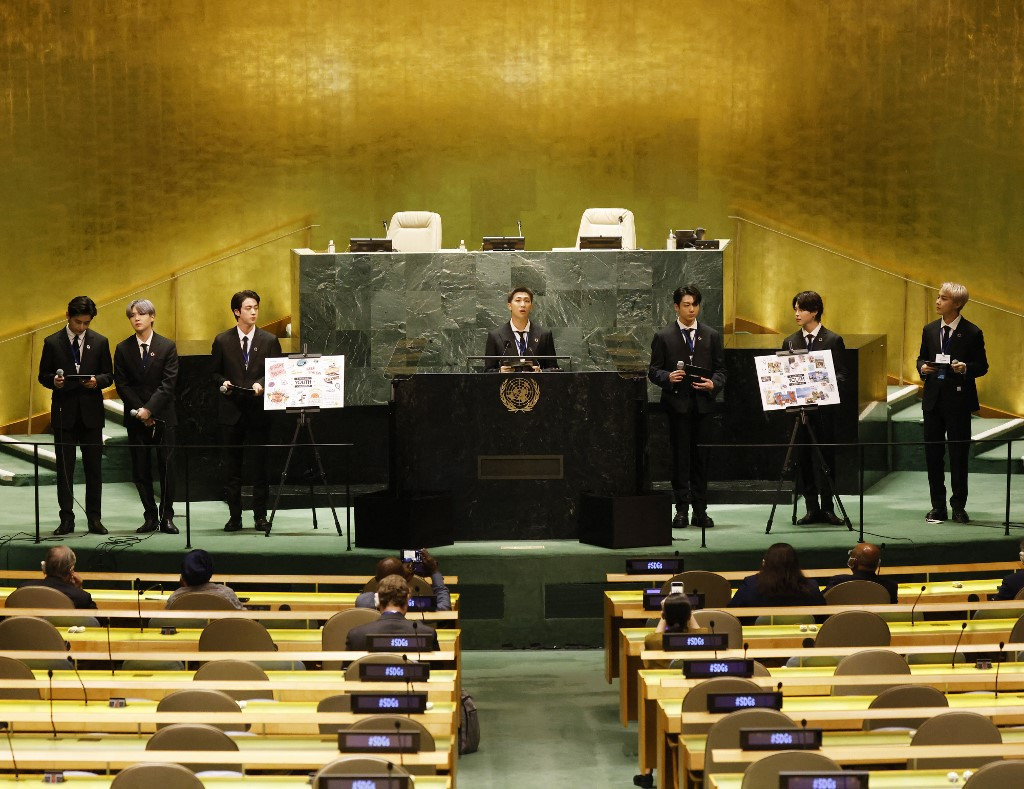 BTS dances across the UN to promote youth solutions for the planet – Entertainment
It wasn't exactly the screaming audience BTS is used to, but Korean pop sensations had a different kind of world stage on Monday as they addressed the United Nations.
The group of seven, dressed in sober dark suits, said they hoped to rally young people to reflect on how to work towards the Sustainable Development Goals – UN benchmarks the world is on. more and more late.
With Covid restrictions in effect, BTS took the floor ahead of a largely empty General Assembly appeal, with front-row delegates listening in silence other than the occasional snap photo by phone.
After their remarks, the pop stars uploaded a pre-recorded video of their track "Permission to Dance" as they showed their movements throughout the General Assembly and on the world organization's lawn facing the East River.
BTS members told UN session they were 'heartbroken' to cancel last tour due to pandemic and asked other young people to share their views on being the "lost generation of Covid", with a disrupted life since early 2020.
"There have been times over the past two years where I too have felt stunned and confused, but we still hear people screaming, 'let's go on living, let's make the most of this moment,'" singer Jin recounting the responses of young people.
"We cannot stand still in taking on new challenges when we are in the prime time of our life."
Pop stars said they had been vaccinated against Covid and also noted that young people were "looking for answers" on how to tackle climate change.
BTS was introduced by South Korean President Moon Jae-in who gave pop stars diplomatic passports, Seoul's latest effort to cash in on the global popularity of K-pop.
The Sustainable Development Goals include the eradication of extreme poverty in the world by 2030.
But the United Nations says the Covid crisis has delayed the effort by several years, with more than 100 million people plunged back into poverty and hunger – in addition to the more than 4.5 million people who have died.
"It would be easy to lose hope. But we are neither desperate nor helpless," Secretary-General Antonio Guterres said at the session.
"We have a path to recovery if we choose to take it."