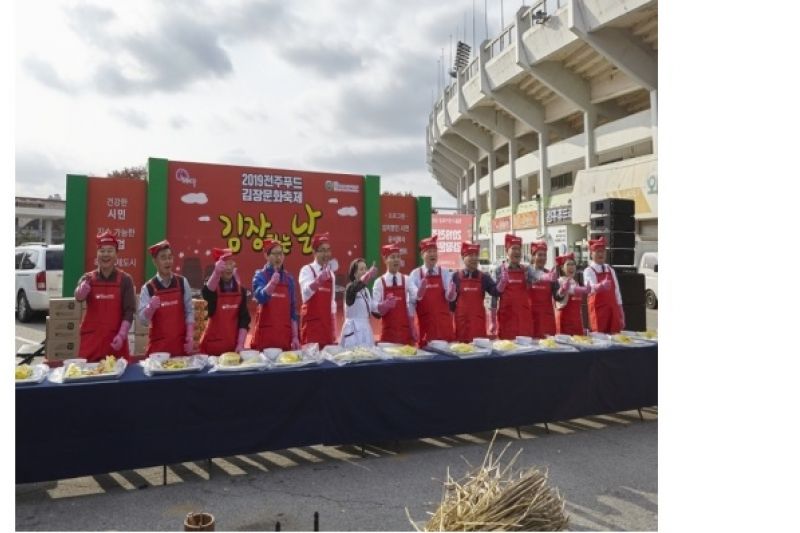 2021 Jeonju Kimchi Culture Festival Held in Taste City
Jeonju, South Korea–(ANTARA/Business Wire)- A festival where attendees can learn how to make kimchi has opened in Jeonju, the City of Taste.
Jeonju City has announced that the 2021 Jeonju Kimchi Culture Festival, an event organized by Jeonju Food Integrated Support Center, will be held online and throughout the city, including Jeonju Stadium from November 2 to 30.
Held for the third time this year, the Jeonju Kimchi Culture Festival is held in different locations at different times given the COVID-19 situation. While last year's festival offered the Kimchi (Kimjang) Making Experience Program only as a Drive-Thru event, it is being held as both a Drive-Thru and an on-site event this year.
The festival offers 12 programs, including kimchi making, kimchi sharing, a kimchi culture tour, and other specialized programs.
The Kimjang Experience, the main program, takes place as a Drive-Thru event on November 19 with 450 family unit participants. The 20 and 21, 150 families, in groups of 25 families per session, experience Kimchi making at Jeonju Stadium. In addition, the Kimjang experience for multicultural families and international students is offered at the Jeonju Kimchi Cultural Center and at each university.
On the 19th and 20th, the Kimchi sharing event takes place. Organizations and groups in Jeonju donate Kimchi to the neglected class. The program also includes a "Kimchi Sharing with Story" event where participants can send Kimchi to people they want to express their gratitude to or neighbors in need.
The two-day cultural tour of Kimchi includes the "Kimjang Experience for Tourists" program, which helps tourists enjoy Kimchi along with cultural tourism, as well as "'Delicious Kimchi School' and a program to make 1 kg of Special Kimchi through which attendees can try making a range of Kimchi using products from the local Jeonju farm.
A variety of other exciting programs are also available, including the Kimchi contest targeting 20 families, a grain threshing experience and photo zones.
Cabbage used during the festival period is sourced from Jeonju Farms and salted in HACCP-certified facilities. As for seasoning ingredients, such as red pepper and radish, only those that have passed the safety test for agricultural products are used. After the festival, leftover cabbage and seasoning ingredients will be sold at the Kimchi Street Farmers' Market, which will open Nov. 25-27 at the Jeonju Food store.
An official from the Jeonju Agricultural Technology Center said, "Amid the COVID-19 pandemic, the excellence of kimchi on human health has been verified around the world. As much as possible, we have prepared this festival to help attendees discover and experience Korean traditional culture of kimchi making, which has been listed as UNESCO Intangible Cultural Heritage of Humanity.
contacts

JEONJU CITY
Inuk Hwang
+82-63-281-2226
Source: JEONJU CITY