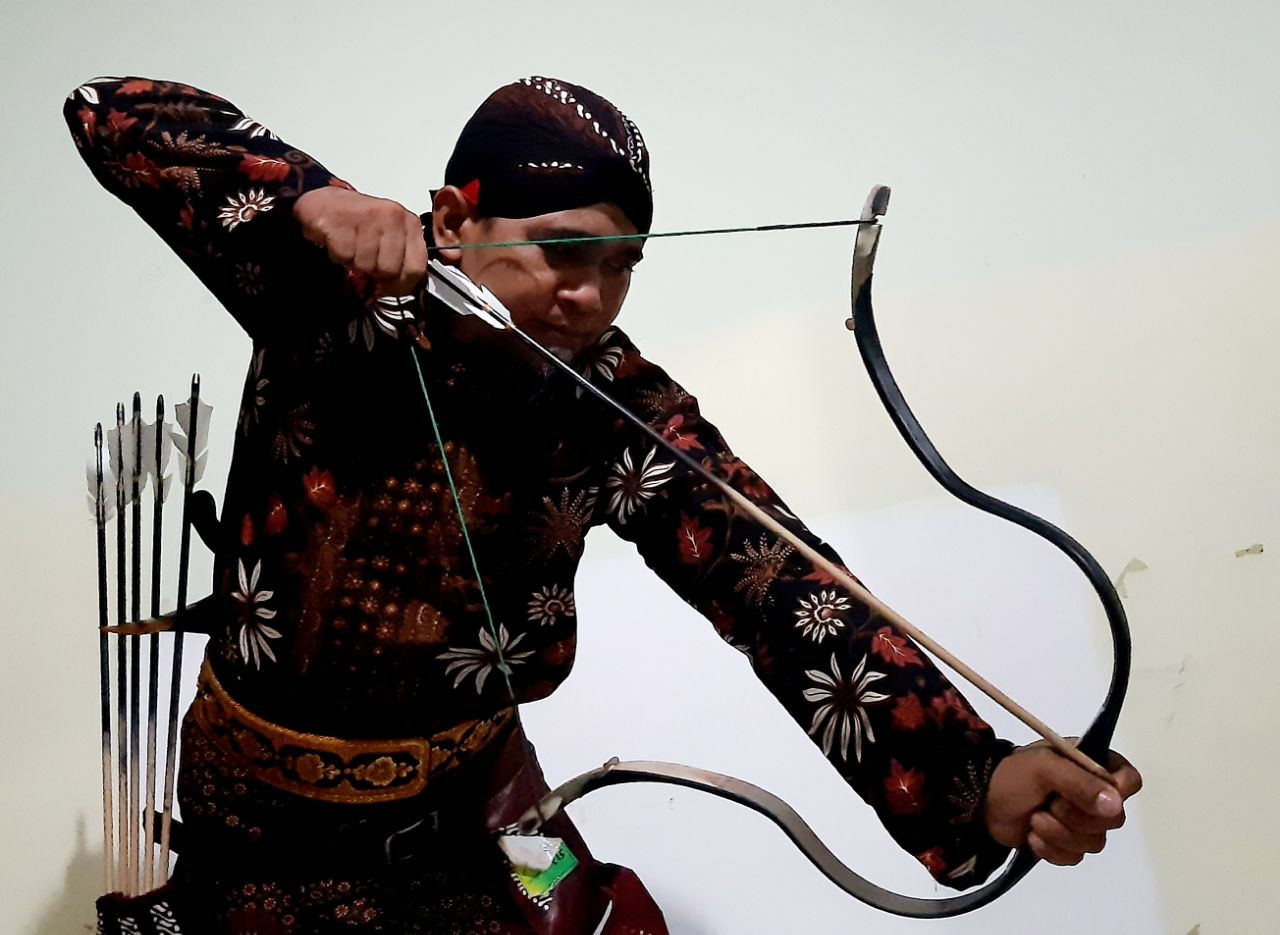 Making traditional Asian bows with Indonesian archers – Art & Culture
JP Staff (The Jakarta Post)
Jakarta ●
Mon 22 Aug 2022

2022-08-22
14:00
2
b2587592dd54281f57bdb7dba91612e6
1
Art & Culture
Asian bows, archer, archery, traditional arrow, arrows, archers
Free

Although Indonesia is best known for its keris, kelewang, parang and other types of short daggers, many hobbyists find hobbies in making bows.
An increasing number of Indonesians are taking up archery, and there are cultural reasons why many feel a special attachment to the sport.
Asian bows are historically made from materials such as horn, bone, sinew, fish skin or bladder glue, bamboo, or hardwood. It takes around six months to a year for archers like Anwar Halimudin to build a horn bow using the same method and materials as before.
"I enjoy making bows. Crafting has always been my hobby since childhood," said Anwar, 34, from Garut in West Java. "When I was a child, I made bamboo bows. I hunted squirrels and birds in the rice fields and fished in the bottom.
"To relive my childhood, I jumped on the bandwagon when [traditional Asiatic] archery has grown in popularity in [2014] and I looked on the internet how to make a horn bow. I started building one in 2017," said Anwar, a fine arts graduate.
However, it wasn't until 2020 that he began selling his works under the Carebows brand, which is a pun on kerbau (water buffalo), whose horns can be used to make bows. He now has two workshops, each located in Bandung and Garut.
Anwar, whose main occupation is teaching at a boarding school in Bandung, said he recreated bows from different cultures. He insisted that making a horn bow required extra patience and determination.
"[You cannot just decide you want to make] a horn bow and expect success on the first try. [Expect to] fail one, two, three, four, five, six times," Anwar said.
In action: Supri 'AJ Archery' poses with an Ottoman bow that shoots in flight. (Courtesy of Supri 'AJ Archery') (Courtesy of Supri 'AJ Archery'/Courtesy of Supri 'AJ Archery')
Scientists believe that composite horn-tendon bows originated from ancient nomadic cultures of the Asian steppe. By the fourth millennium BCE, the technology had become common in Mesopotamia and Elam. It then spread throughout Asia, Eastern Europe and North Africa.
To build a composite bow, you must first shape the core. Anwar said he used either bamboo or mulberry, with bamboo being more desirable. He will then shave a pair of horns into strips and shape them to match the core before gluing them to the belly side of the bow. Anwar said he prefers rawhide glue for his bows.
The archer will then hammer and comb the dried tendons until they turn into fine strands, after which they are glued to the back of the bow. After waiting about six months to a year for the glue to harden, the bow will be ready to be plowed before the archer covers it with leather, tree bark or lacquer.
"Those who want to learn how to build a horn bow from scratch can visit my YouTube channel, [Carebow Nusantara]which I posted video tutorials on," Anwar said.
Modern approach
While Anwar is known for its organic bows, modern traditional bows, made from synthetic materials, are more common in Indonesia. The most popular material is fiberglass reinforced epoxy (GRE), colloquially known as epoxy fiberglass (EFG). Among those using the technology to craft bows is Supri. Like Anwar, Supri said he used to hunt with a bow and arrow as a child.
"As an adult, I learned [traditional] archery on the internet, but the first bow I bought was a modern compound bow," said the 45-year-old, who chose to share only his nickname.
Supri said he decided to retire as a furniture wholesaler in 2016 and started selling bows under the AJ Archery brand when his business stagnated. His workshop is located in Jimbaran, South Kuta, Bali.
"I don't know exactly when I started the AJ Archery brand, as it was a continuation of my previous brand, AJ Furniture, when I was still a furniture wholesaler," Supri said.
"I joined [traditional archery] WhatsApp and Facebook groups [to learn traditional archery and how to make bows]. [Every time I posted my works, people said] they loved them. They couldn't do bows like I did, so they asked me to do some for them. It was around 2016. Since then, I have been making and selling bows.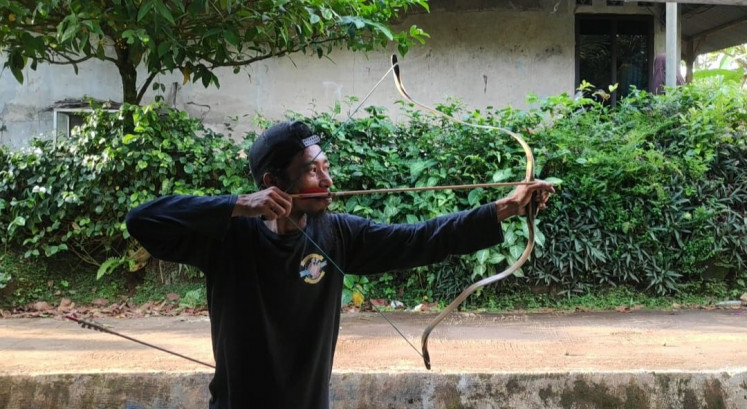 Test: Toto 'Al-Harits' Sunarto tests a Tatar bow. (Courtesy of Toto Sunarto) (Courtesy of Toto Sunarto/Courtesy of Toto Sunarto)
Supri is one of the pioneers to use the bow making method called "bending" in Indonesia. It consists of dividing the factory-made GRE strips and regluing them in such a way as to obtain the desired curves. With the method, archers don't have to mold their own GRE to create the shapes they want.
Like Anwar, Supri also said he took up archery as an adult to relive his childhood. "At first I learned to do bows because I want to do archery with my own bows," he said.
"Why do they have to be Asian bows?" Because they are beautiful. I was a wood carver in Jepara [where I came from]so i like [arts in general]. Horse bows, also known as Asian bows, are artistic, unlike boring modern bows.
Where old meets new
Anwar and Supri have also recently made "hybrid" bows, such as 34-year-old Toto Sunarto, who was one of the first to make such bows. Indonesian-style hybrid bows are made by adding a layer of horns to the belly of a "curved fiberglass" bow. Hybrid bows offer the durability of modern materials while maintaining the historic look and feel of a traditional bow.
"I started learning archery in 2014 on YouTube and Google," Toto said. "I started making bows in 2015. I also learned how to make them from [the internet]. I have been selling my bows under the Al Harits Archery brand since 2016. My workshop is located in Banjar, West Java.
"I do archery because it's a sunna [prophetic example]For who [Allah rewards the practitioners]. I make bows [for the same reason]."
Toto said he made compound bows out of wood before switching to traditional bows. Before he started making bows, he "sold food".
"However, after learning how to make bows, I started focusing on selling them. Apart from being a hobby, it also brings in more money," he said. plus bows i do too [archery] thumb gloves.
Toto said he has never had difficulty making bows, but those who want to learn must be "financially stable".
"You will fail many times and the materials are not cheap," he said, adding that you have to be "resilient and patient" throughout the process.
Toto said he regretted the lack of support for traditional archery. He said the government should "[accommodate] traditional archery so that there are more people practicing [the sport]".
"I want people to recognize that [traditional] archery is a positive point, [beneficial] and fun sports," Toto said.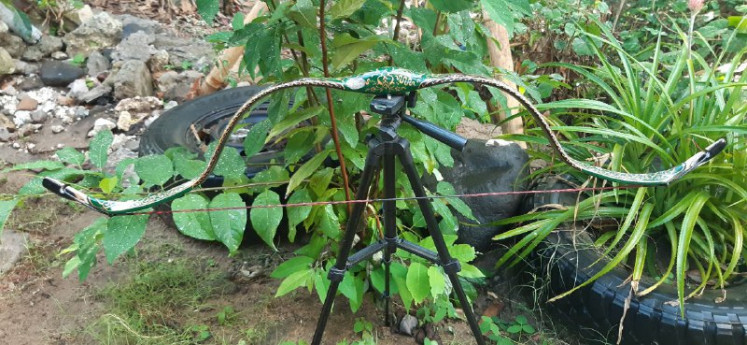 Diversity: Different archery cultures use different bow designs. Pictured is 'Babur', a Mughal bow from Supri 'AJ Archery'. (Courtesy of Supri 'AJ Archery') (Courtesy of Supri 'AJ Archery/Courtesy of Supri 'AJ Archery)
Likewise, Supri said he hopes traditional archery will spread and be free of stigma.
"I hope people realize that traditional archery has nothing to do with terrorism [as it is stigmatized]. I hope they can see someone carry the bow and arrow [to the range] just like they see people carrying a ball onto the pitch to play football," he said.
"Our ancestors were archers. The function of the bow and arrow is different, of course, but I hope people stop seeing [traditional] archery as something strange, something scary. Traditional archery is part of our culture. We have [Sundanese and Javanese] Jamparinganfor example," Anwar added.
ohm