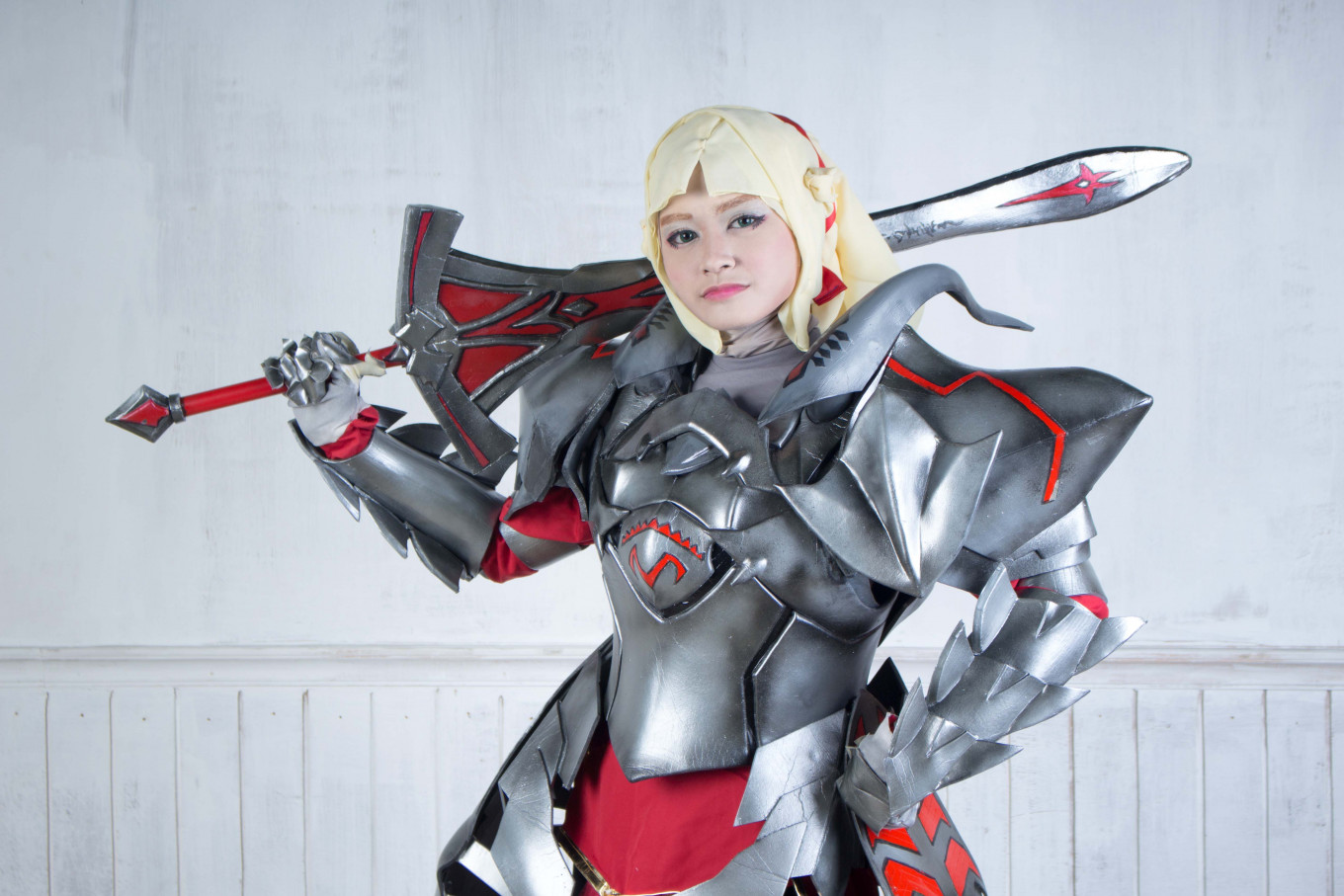 Hijab Cosplayers Expand the Definition of Fandom
JP Staff (The Jakarta Post)
Jakarta ●
Fri, February 4, 2022

2022-02-04
15:00
60
96b6dc131e428b7b8068bc060742ad86
1
Art & Culture
hijab, hijab-cosplay, cosplay, anime, japanese culture, pop culture, japanese anime
Free

Devotion to your religion doesn't mean you have to give up your passion for creativity. These Hijab Cosplayers Cross Boundaries Without Leaving Their Faith.
Beginning long before the Korean Wave's domination of pop culture, Japanese anime and manga have captured the interest of young Indonesians since the 90s. The childhood memories of most adults today are often linked to the Sunday morning anime, which shows how deeply rooted Japanese 2D culture is in the country.
Various Japan-related events, such as Blok M's famous Ennichisai festival in South Jakarta, take place in major cities, and one of the highlights of these events is cosplayers – a culture that survives mainly thanks to social media. . For Lina Freya, a 28-year-old employee of a public company in Jakarta, it all started for her at Gelar Jepang Universitas Indonesia.
Cosplay is short for "costume play", a pastime where fans dress up to look like their favorite fictional characters. It started in Japan with mostly Japanese manga and anime characters before becoming popular worldwide.
Bring it on: Lina warns other hijab cosplayers to avoid cross-dressing, use hijab as a replacement for wigs, and listen to negative feedback from haters. (Personal collection/Courtesy of Lina Freya) (Personal collection/Courtesy of Lina Freya)
"I started cosplaying in 2013 and started wearing a hijab in 2012," Lina said. "This time [at Gelar Jepang Universitas Indonesia] I cosplayed Yukiko Amagi from Persona 4.
Cosplayers have plenty of ways to impersonate their favorite characters, like how to make their hair look exactly like an oversized standing crown. However, hijab cosplayers have a different challenge: letting the hijab serve its purpose while dressing up as their favorite characters. This was one of Lina's considerations when she started.
"I was interested in cosplay before but didn't have the courage to try it. At that time, I didn't know how. I didn't have any friends. [with the same interests] neither," Lina explained. I thought if you're wearing a hijab, you can't cosplay."
One day, Lina saw someone cosplay Hatsune Miku, a Vocaloid – an iconic mascot for Japanese company Crypton Future Media's music software. The cosplayer wore a hijab while nailing the perfect look of the me (Japanese slang for cute) figure.
"I got involved. I asked other Japanese culture and anime lovers and tried to find suitable tailors online."
Meanwhile, Ira Kuswara Putri, also known as Mirai, started cosplaying before deciding to wear hijab in 2018. "I started cosplaying in 2015," Mirai said. "After wearing the hijab, I felt the urge to cosplay again, but I still had my doubts because I couldn't take off my hijab like that."
She read an article about Malaysian hijab cosplayers and started being a hijab cosplayer in early 2021.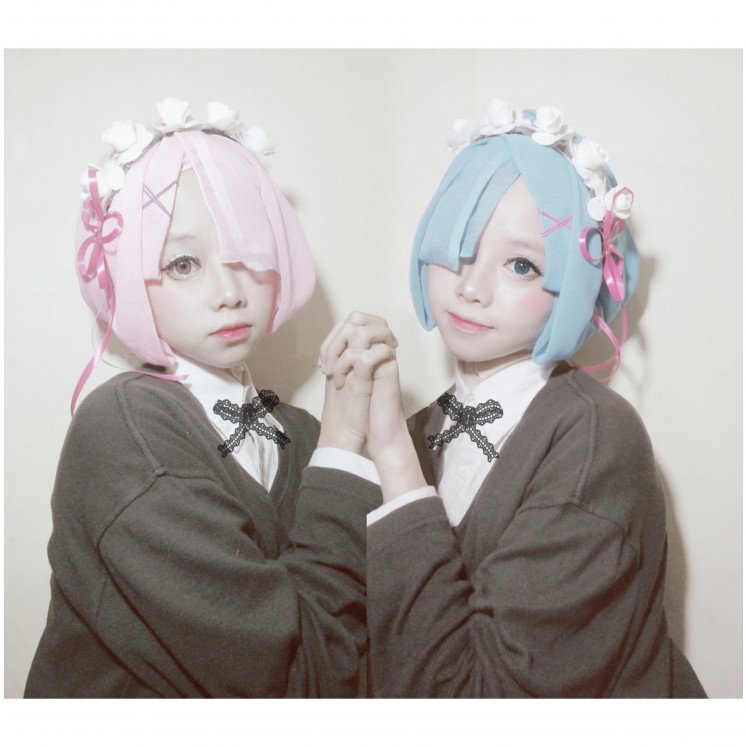 Hobby: Ira, also known as Mirai, started cosplaying before wearing the hijab. (Personal collection/Courtesy of Ira Kuswara Putri) (Personal collection/Courtesy of Ira Kuswara Putri)
Adapt and meet challenges
According to Bandung's Angetri Tunggadewi Putri, better known as Ange Minami among cosplay enthusiasts, it's best to pick a character whose look is easy to replicate overall.
"I usually choose the character to cosplay that suits [the characteristics of my face]. So every time I plan a cosplay, I determine if that character matches my facial features," said Ange, who makes similar considerations for the character's costume.
"I usually choose what I like, and it's important that the original costume isn't too revealing [such as female Kamen Rider]. This way it still looks good when I adjust it to suit my hijab and cover my aura [intimate areas of the body that should be covered]."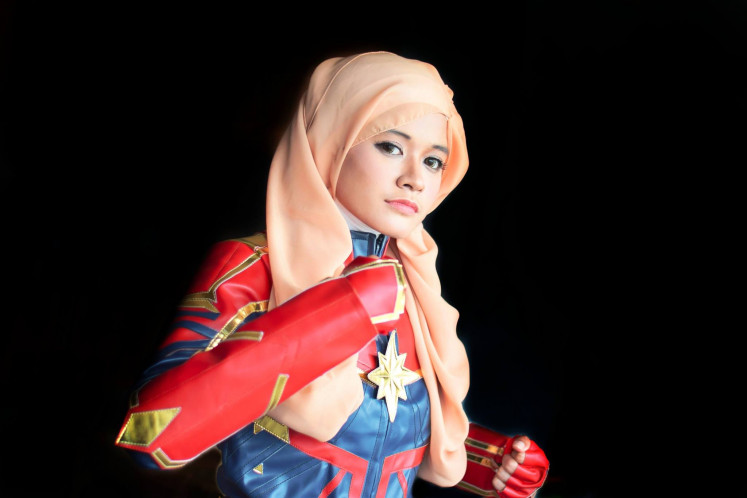 Superhero Costume: Ange tried to find characters that would suit her facial contours so she didn't have to wear too much makeup, like this Captain Marvel stand up. (Personal collection/Courtesy of Ange Minami) (Personal collection/Courtesy of Ange Minami)
Ad Diena Islamy Haq, a 20-year-old student at Semarang State University, has a similar view. "Usually I cosplay the characters I like. So before cosplaying, I study the characters, research their different costumes online, then choose the most secret costume and make sure it doesn't there are no religious or ambiguous attributes, like a cross or shapes resembling a cross," Diena said.
Lina thinks a cosplayer doesn't have to look 100% like the character they're portraying. Instead, she emphasized that the important thing is "to bring out the character's distinctive personality traits."
"The takeaway is that you just have to create a style from the unique features," she said, adding that hijab cosplayers shouldn't treat the hijab as a substitute for a wig. .
"Take Hatsune Miku, for example. She has a distinctive blue hair color with twin tails. You don't need to use twin tails for your hijab, just bring out the hair color plus the costume, to let people know who he is. You shouldn't just copy the hairstyles as they are. Then there's Keqing from Genshin Impact, his hair has curls – the hijab doesn't have to be as well closed in the same way.
Commitment and dedication
For Diena, the hijab is a unique selling point for cosplayers, but it's not very popular among Indonesians.
"Many appreciate it, but there are also many who make negative and unconstructive comments," she pointed out several causes about it. "My parents also thought it was a bit strange at first, but now it's okay as long as I prioritize my studies. My friends are also supportive and they're happy that I can do what I love."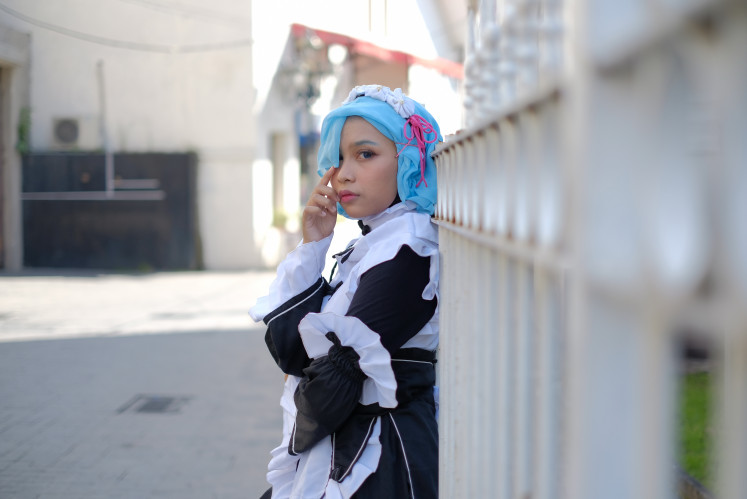 Supportive Family: Diena eventually got support from her parents who initially thought the hobby was a bit strange. (Personal collection/Courtesy of Ad Diena Islamy Haq) (Personal collection/Courtesy of Ad Diena Islamy Haq)
Ange shared that there have been various reactions around the hijab cosplay community, but she understands them because people can have their own opinions and preferences.
"Thank God, there are also many who support hijab cosplay communities both at home and abroad. One community even invited me to several national events, even in Malaysia," he said. she declared.
Lina, who sees adaptation as the biggest challenge for hijab cosplayers to stay Sharia-compliant, said she finally learned to reject criticism.
"There are also those who criticize that if you already wear a hijab you shouldn't cosplay because cosplayers should wear a wig to be more accurate with the original character. But keep in mind that if you don't like it from the start, then no matter how good the cosplay is, the answer will be negative," Lina said.
Lina shared the story of a new hijab cosplayer who recently incited drama within hijab cosplay communities by lashing out at negative comments on social media.
"She could have used the feedback to improve her cosplay, to make it better instead. Ultimately, it affected the whole hijab cosplay community. It's sad and it worried me," a- she declared. "Sometimes I think about how we can do our hobby and still be positive about it so other cosplayers can express their creativity."