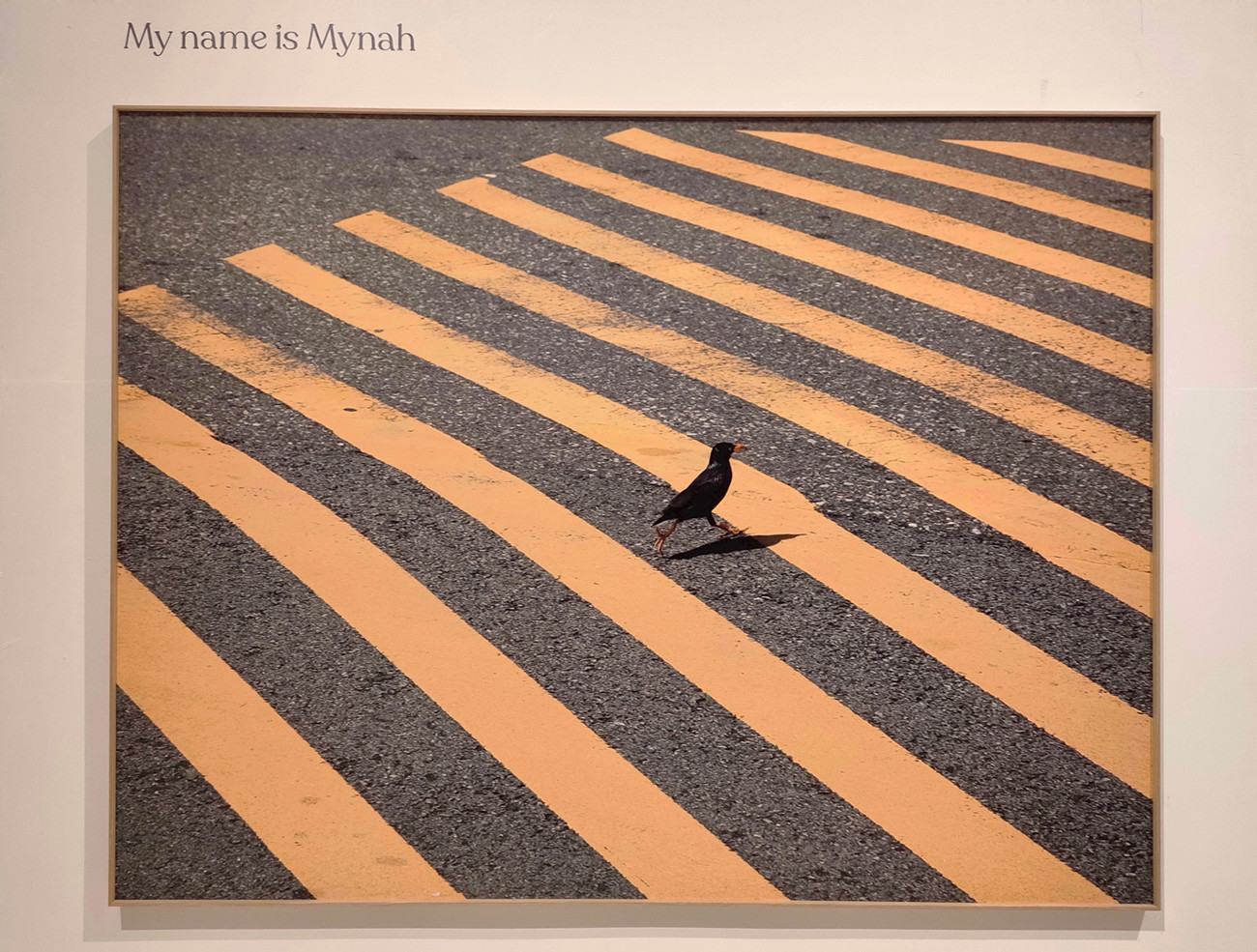 Javan Myna: A Story of Runaway Birds – Art & Culture
Sylviana Hamdani (Jakarta Post)
Jakarta ●
Tue 1 March 2022

2022-03-01
11:51
0
6ecd2a3b02ae141944722af30e893dc0
1
Art & Culture
bird species,birds,javan-myna,photographer,photography
Free

Dutch-Spanish photographer Anaïs López celebrates an Indonesian bird in her latest work
What do the species of bird known as the Javan myna and humans have in common? Just like us, they too can be taken from their homes, transported to another country and labeled as "migrants" and "terrorists". In an effort to control their population, these birds were gassed, poisoned, shot, and had their wings clipped.
These disturbing facts are beautifully highlighted by Dutch-Spanish photographer Anaïs López in The Migrant, an exhibition taking place at the Erasmus Huis Jakarta, from January 20 to March 6.
For The Migrant, the exhibition hall at Erasmus Huis Jakarta has been transformed to look like Singapore, with floor-to-ceiling images of its shimmering skyscrapers dominating visitors walking through the exhibition. On the standing panels are displayed pictures of Javanese mynas in various settings; perched on a tree overlooking tall buildings, flying in a herd across the cloudy Singapore sky, jaywalking, caged and dead in a freezer.
"I use my camera to record the interaction between people and their urban environment, and I ask the question: do people make the city or the other way around?" López said in a Zoom interview with Jakarta Post Monday.
"In creating the ideal society, who are we excluding? she asked.
Screams of Javanese mynas and car horns echo through the exhibition hall.
Documented: Anaïs Lopez shows an article on the myna of Java in a looping documentary at the Erasmus Huis Jakarta. (JP/Sylviana Hamdani) (JP/Sylviana Hamdani)
A chance encounter
López fell in love with Javan mynas during a chance meeting.
The photographer was invited to a project in Singapore in 2012. Arriving after a 12-hour flight from Amsterdam, she went straight to her hotel room in Little India and took a nap.
But a shrill noise woke her up.
Sitting at his window was a black bird, the size of a sparrow, howling at the top of his voice.
The photographer opened the window and tried to chase her away.
"He looked at me and didn't disappear," López said. "Considering the noise it made, I was surprised at how small and elegant it was. It reminded me of a ballerina.
The Javan myna, a member of the starling family, is mostly black with white spots on the underside of its tail. Its beak, legs and legs are yellow.
López had just completed another project, titled "In the Beginning No Bird Sang", around this time. For the project, the photographer had followed Jean Poppers, a blind man who recognizes almost all the birds of Ijburg by their voice, for 18 months.
"One thing I learned from Jean is that birds never cry for no reason," the photographer said. "[Birds] are like people. When they shout, they have to say something.
As the Javanese myna at the hotel window kept screaming, López decided to go downstairs to get a better look.
"And he was waiting for me on the street," she said. "He walked really proud. And it could also imitate my speech. I was fascinated."
Another day, while López was sipping coffee in a store in Singapore, she came across an item from The time of the straits who called the bird a "new terrorist" for his unbearably loud voice.
She became intrigued.
"I wanted to know everything about the bird," she said.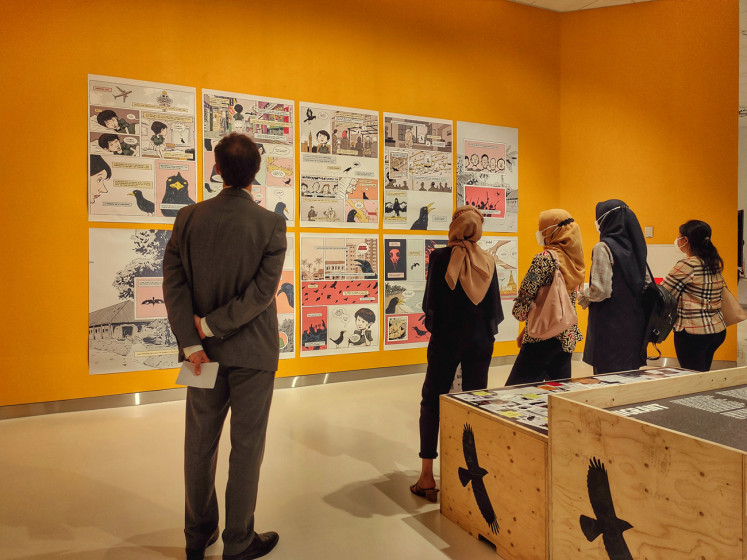 Picture perfect: Exhibit visitors view images of Javan mynahs in cages. (JP/Sylviana Hamdani) (JP/Sylviana Hamdani)
The birds on the run
There are two main types of myna living in Singapore: the Indian myna and the Javanese myna.
Native to Java and Bali, the Java myna was first introduced to Singapore in the 1920s through the caged bird trade. Carl Alexander Gibson-Hill, a British ornithologist and curator of the Raffles Museum in Singapore, categorized Javan Mynahs as "migrants" in 1949. And the bird's position in society fell even further when their beautiful voice turned into a shrill cry to compete with the urban growth. noise in the city-state.
There are now over 100,000 Javanese mynas living in Singapore. They usually roost in trees near residential areas, driving their inhabitants crazy with deafening screams.
Further research by López at the National Library of Singapore revealed gruesome ways in which local residents tried to control the bird's population and sterilize their neighborhoods from its noise.
Since 1981, members of the Singapore Gun Club have been allowed to shoot these birds.
In 1988, a mysterious van parked on Ang Mo Kio Street sprayed chemicals on the trees where these birds roost and killed hundreds of them in a single night.
A more recent incident, in 2019, saw 2,800 of these birds at Potong Pasir "humanely euthanized with carbon dioxide".
And there are many other such heartbreaking reports in the library.
"And I thought, 'Poor bird,'" López said. "You really have a terrible life. We are horrible.
The photographer then decided to make a story about the Mynahs of Java and tell it to the world.
"I followed them for five years and tried to find out everything about them," she said.
The photographer also joined a Singapore Gun Club hunting trip that traveled to the Malaysia-Singapore border to shoot any Javanese mynah that passed through.
"[Members of the Singapore Gun Club] are really, really nice people," she said. "But they believe in their own city values [with] well-mannered [citizens]. And these birds are not well behaved. They believe [the birds] do not belong to Singapore. They are treated as migrants.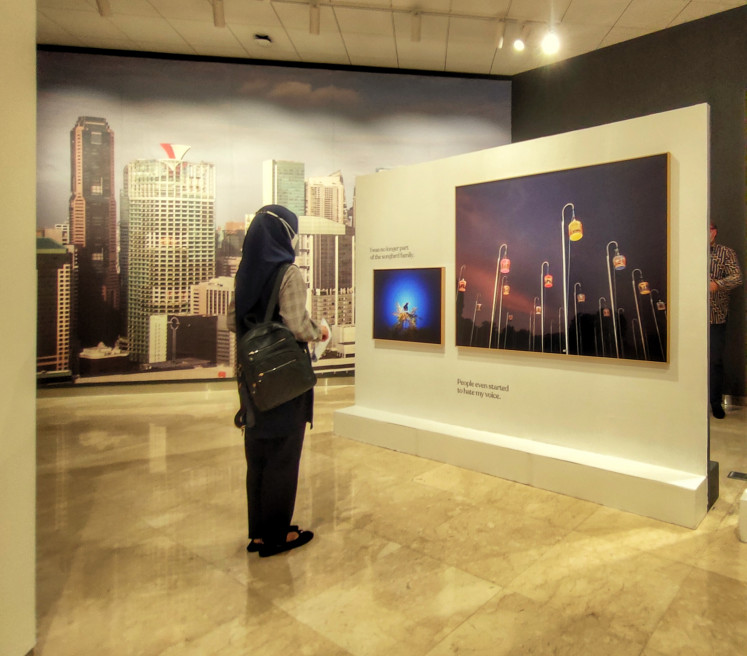 In Cage: A visitor to the exhibit looks at a photo of Javan Mynahs in cages. (JP/Sylviana Hamdani) (JP/Sylviana Hamdani)
A migrant story
As López flew back and forth between Singapore and Amsterdam to tell the story, she told her visiting mother-in-law about these birds.
"[My mother-in-law] started crying," the photographer said. "And she's a badass. She is a hardworking woman who does not break easily. But when I told her the story, she said, 'Well, this is my life. That's how people treated me here.
Between the 1960s and 1970s, many young people in Spain, including López's mother-in-law, were recruited to work in the Netherlands.
"She said, 'we have been received with open arms to build society here,'" the photographer said. "And once it was built, they were kindly asked to leave. And if they didn't, people would complain. They would call the police about them. They said: "You are the migrant. We don't know you. So we don't want you here.
A documentary film, on a loop in the exhibition hall of Erasmus Huis Jakarta, shows members of the Singapore Gun Club posing for photos with the birds they have killed. One man even boasted of killing 129 of these birds in a single outing.
"It's scary," said Sandra von Hellemond, a consumer researcher and exhibit visitor, in an opening night interview. "[Members of Singapore Gun Club] the impression that they are doing justice by killing the birds.
"And then on a deeper sense, that's what's happening in the world," Von Hellemond continued. "In the documentary, you could see that the bird had changed its voice because it didn't feel at home. This is what happens to people, if they move to another country, maybe not of their own free will, they suffer.
See (and smell) through the eyes of the bird
Gideon Guruh Satrio, a private sector employee and bird enthusiast, came specially from Semarang to see the exhibition at the Erasmus Huis Jakarta.
"It's an eye-opening exhibit," he said. "When I was a child, I saw these birds in the fields. I rarely see them anywhere now. But now I know they thrive in another land, though hated and driven away.
The population of the Java myna, known as the jalak kebo, has fallen sharply in Indonesia. It is estimated that there are currently less than 2,000 in the country.
"I also like the way they organize the photos in the exhibit," Gideon said. "By walking through them, we can feel and imagine what it is like to be these birds living in the metropolis."
The exhibit, which runs until March 6, is open Tuesday through Saturday from 10 a.m. to 4 p.m. Visitors must be fully vaccinated or present a negative antigen test. Unvaccinated children can also come, only if accompanied by fully vaccinated adults.
"The Erasmus Huis is very happy to open this year with the fascinating exhibition around the myna of Java," said Yolande Melsert, director of the Erasmus Huis Jakarta. "With borders closed and travel still not possible, this exhibition gives you the opportunity to travel through the eyes of the Javanese bird."
Those who have not had the chance to see the exhibition can also visit migrant.nu/ena site dedicated to the project, and discover the story of the fleeing birds.